Henderson goes down with right hamstring strain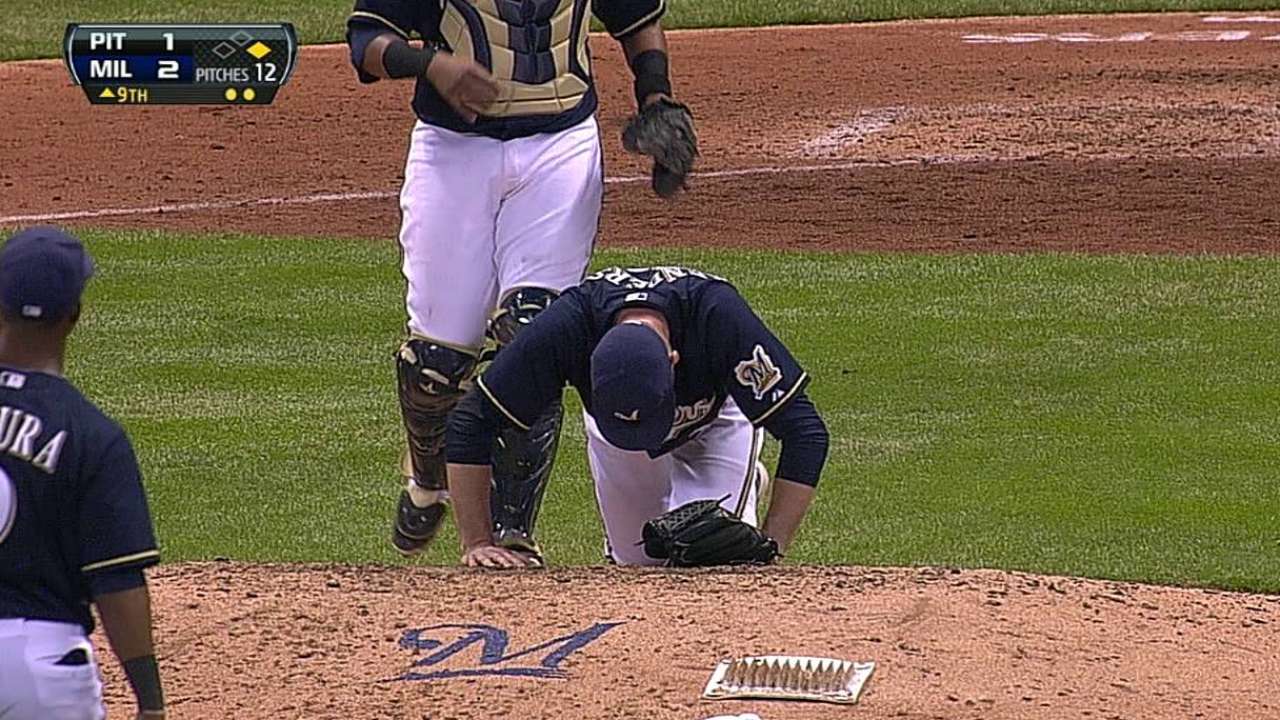 MILWAUKEE -- Brewers closer Jim Henderson went down with a right hamstring strain in Friday's 2-1 victory over the Pirates, and manager Ron Roenicke could not rule out an extended absence.
"I don't think it's just going to be a day," Roenicke said.
Pitching with one out in the ninth inning, Henderson felt his right hamstring grab when he pushed off the mound delivering a 2-1 pitch to Pirates catcher Russell Martin. Martin grounded the ball up the middle and Henderson went down awkwardly trying to field it.
Jean Segura fielded the ground ball and flipped it to Jeff Bianchi at second base for the second out of the inning with Henderson still on the mound holding his hamstring.
The right-hander walked around the mound and took one warm-up pitch but knew immediately he was done.
"Just trying to be quick to the plate and pushed off real hard and that's what happened," said Henderson, who had his hamstring wrapped with ice after the game. "I'll see the doc tomorrow and we'll reevaluate it."
Francisco Rodriguez came in and threw two pitches to make the final out of the game, earning the 295th save of his career.
Henderson helped stabilize a Brewers' bullpen that struggled early in the year and is 9-for-9 in save opportunities with an 0.92 ERA.
If Henderson does miss time, Roenicke said he likely wouldn't count on one pitcher to take over the closer's role. The Brewers have three other pitchers with closer experience on the roster: John Axford, left-hander Michael Gonzalez and Rodriguez.
"I don't know if we want to go with just one person in particular," Roenicke said. "We may look at the matchups and see what they are every night. If there are a couple lefties coming up, we may leave one of our left-handers in there."
Adam McCalvy is a reporter for MLB.com. Read his blog, Brew Beat, and follow him on Twitter at @AdamMcCalvy. Kevin Massoth is an associate reporter for MLB.com. This story was not subject to the approval of Major League Baseball or its clubs.