Strained hamstring forces Henderson to DL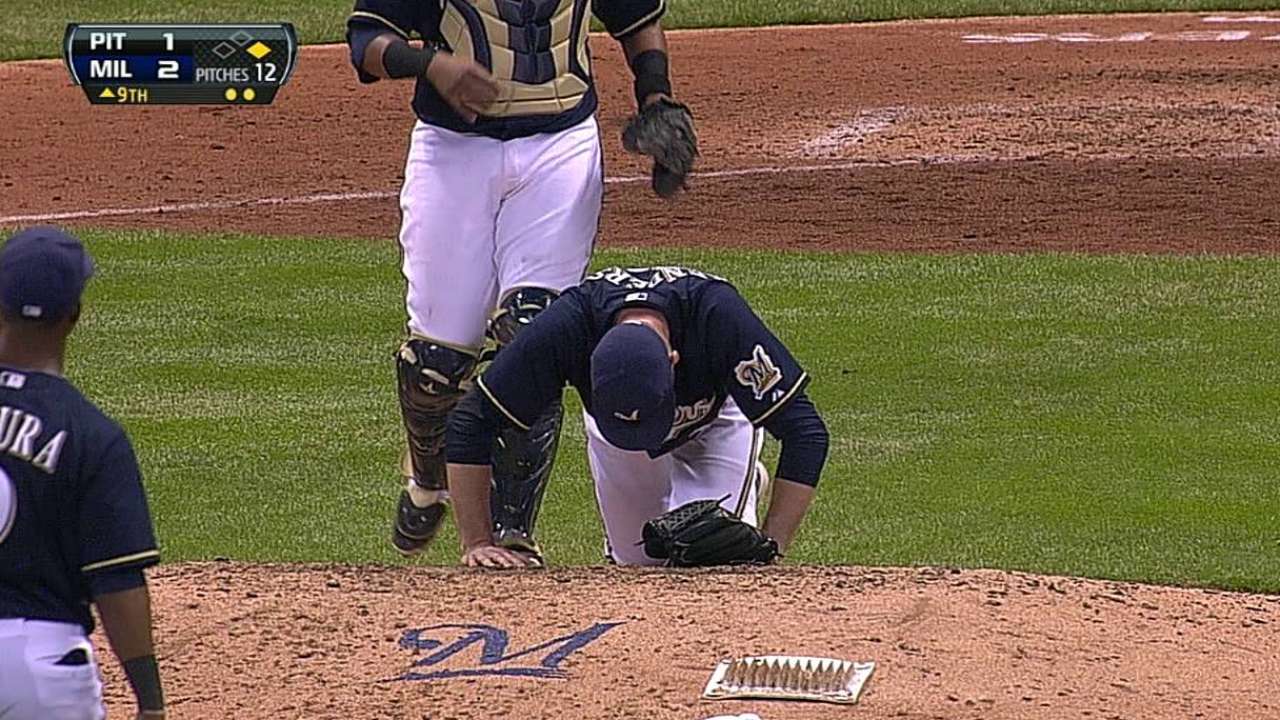 MILWAUKEE -- An injury has temporarily darkened one of the Brewers' rare bright spots. The team placed closer Jim Henderson on the 15-day disabled list Saturday with the strained right hamstring he suffered the night before.
A corresponding roster move will be made on Sunday and Brewers manager Ron Roenicke said club officials were still discussing a variety of options. The Brewers have been playing one position player short, but they also need a starting pitcher for Tuesday against the Twins and could use help for a bullpen that has shouldered a heavy workload of late.
The decision to DL Henderson came after he was examined Saturday afternoon by the team's head physician, William Raasch.
"He didn't see any gaps, what he was feeling around for in there, so it isn't a serious pull," Henderson said. "So, we're just kind of taking the better-safe-than-sorry route right now. If they weren't going to DL me, there would probably be that pressure to rush back. So, we'll just take our time with it. It's the first time for me."
The roster move was forecast before the game, when Roenicke told reporters, "It's going to be a while."
Henderson suffered the injury in the ninth inning on Friday on a one-out pitch to Russell Martin. Henderson said he felt his hamstring pull at the release point on the pitch while pushing off the rubber, before making an attempt to field a ground ball hit back to him.
Henderson, who is 9-for-9 in save opportunities and holds a 0.92 ERA, threw one warm-up pitch before exiting the game. He has no history of hamstring injuries.
"Hopefully, in a few days it settles down a bit, I'll get rid of this limp and I can walk around better," said Henderson, who moved very slowly around the clubhouse on Saturday. "The biggest thing for me is I want to keep my arm in shape and keep that going, because that's the key right there."
Roenicke said he would use a closer-by-committee approach during Henderson's absence.
"It's tough right now," Henderson said. "We're getting hit here [with injuries]. Some guys come back from the DL and other guys are going on. We still haven't played this year full-strength, and I know it's hurting us in all areas of the game."
Adam McCalvy is a reporter for MLB.com. Read his blog, Brew Beat, and follow him on Twitter at @AdamMcCalvy. Kevin Massoth is an associate reporter for MLB.com. This story was not subject to the approval of Major League Baseball or its clubs.