Hand promoted, makes big league debut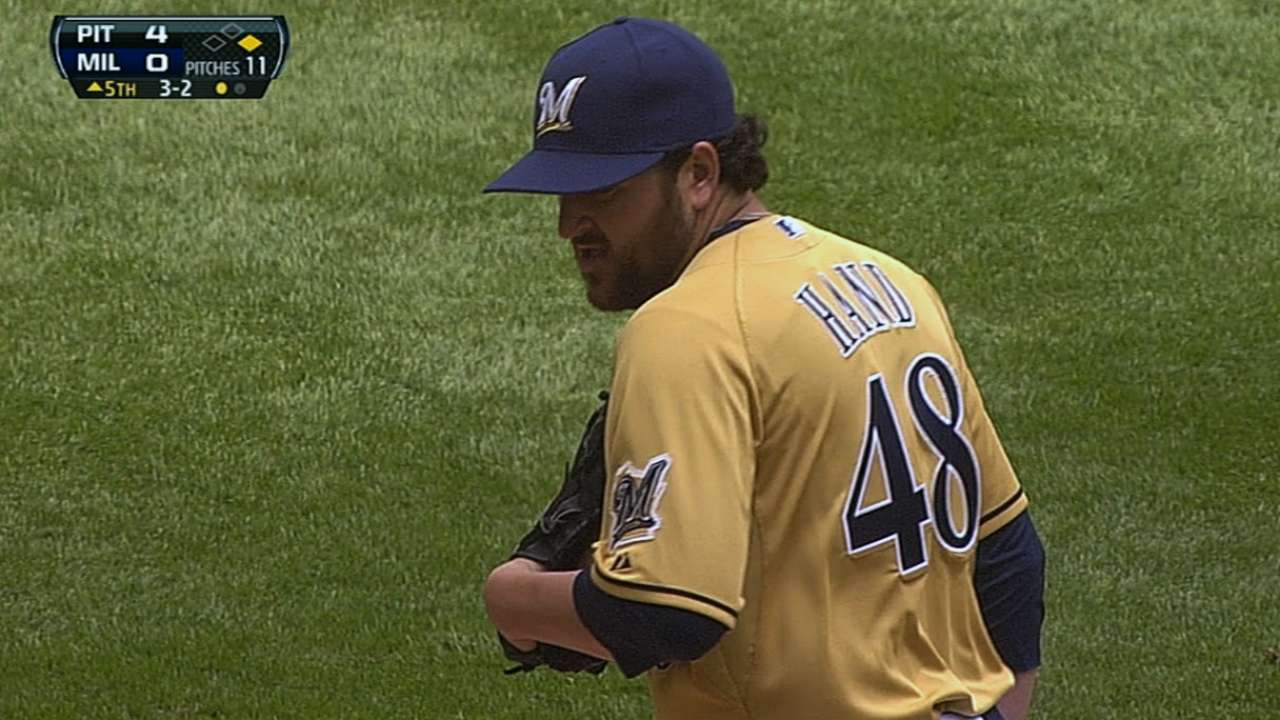 MILWAUKEE -- Donovan Hand was so close to cracking the Brewers' Opening Day roster.
But Hand, the last pitcher cut out of Spring Training, didn't have to wait too long to get the callup to Milwaukee.
The reliever was promoted from Triple-A Nashville on Sunday to take the roster spot of closer Jim Henderson, joining a Brewers' pitching staff still trying to figure things out after Henderson was placed on the 15-day disabled list Saturday with a strained right hamstring.
It didn't take long for Hand to be summoned by manager Ron Roenicke in the finale vs. the Pirates, as the right-hander pitched two innings and allowed three hits and one earned run while walking one and striking out three in the Brewers' 5-4 loss.
Hand left Nashville at 7 a.m. CT Sunday, getting little sleep after a late game on Saturday night. His parents, Don and Betty, drove two hours from Nashville to their home in Alabama to pick up Hand's brother before turning around and making the long trek up to Milwaukee.
"Kind of a crazy travel day, but nothing I'm not accustomed to," Hand said after making the rounds in the clubhouse, shaking hands and hugging teammates when he arrived at 11 a.m. "You'd go with no sleep to be up here at this time of the year. I'm definitely excited to be here and help this team win."
Roenicke said the team liked what they saw this spring from Hand, who surrendered only two earned runs in 15 Cactus League innings.
"We'll see how often we're going to use him," Roenicke said. "He's pretty durable, so we think we can bring him back [on short rest after an outing] and not have to sit him too long."
Hand had a 2-1 record with a 3.18 ERA in 16 relief appearances for Nashville.
"Once I left here [after Spring Training], I felt a long way away," Hand said. "I'm back here now."
Kevin Massoth is an associate reporter for MLB.com. This story was not subject to the approval of Major League Baseball or its clubs.