Roenicke: Segura even better than stats show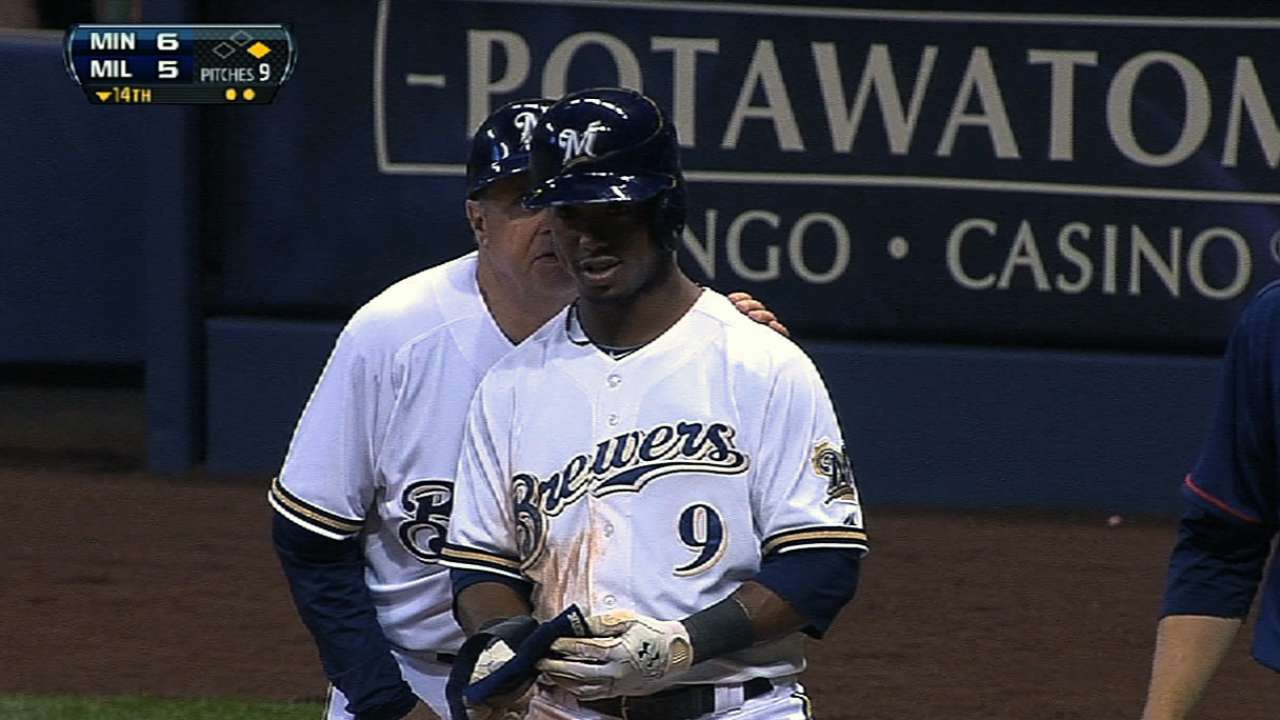 MINNEAPOLIS -- He leads the National League in hitting, fresh off a six-hit performance Tuesday against the Twins. He continues to make flashy, jaw-dropping plays in the field. And -- this is what really surprises manager Ron Roenicke -- Jean Segura keeps doing it, night in and night out.
"He surprises me in the fact that he's been so consistent for this length of time," Roenicke said before Wednesday's game at Target Field. "I think he's got it in him to do those types of things, but to be as consistent as he's been offensively, for a young guy, that's really good. We're not facing easy pitchers -- we've faced some really tough ones, and it doesn't seem to slow him down any."
Segura's 6-for-7 night boosted his batting average to .365, trailing only Detroit's Miguel Cabrera among Major League hitters. It also opened some eyes in the opposing dugout, where the Twins were getting their first look at the Brewers' rookie shortstop.
"Oh my, he hits everything you throw up there," Twins manager Ron Gardenhire said. "He's got one of the shortest, most compact swings you'll ever see. He seems to be on everything.''
Only two Major League shortstops -- Colorado's Troy Tulowitzki and Baltimore's J.J. Hardy with 10 -- had hit more than Segura's eight home runs through Tuesday, while his .569 slugging percentage was 10th-best in the Major Leagues and trailed only Tulowitzki at his position.
That is pretty good company for a player who started the season with 151 Major League at-bats. Roenicke initially responded to a question about his shortstop's All-Star credentials evasively, but he made it clear that Segura's offensive game was only part of what made him special.
"Unfortunately, the way we've been playing, my focus hasn't been too much on other teams and how their players are doing, so I really have no idea what's going on with other shortstops in the league," Roenicke said. "But it's hard to imagine somebody playing better than he is. ... The defensive part, which you can't see except for errors, he's unbelievable. The range he has, the plays he's made that I know most shortstops can't make are numerous."
Any time a player as young as Segura -- who turned 23 during Spring Training -- finds himself atop the league in hitting, there is concern about that player getting a bit overwhelmed, but Roenicke lauded the veteran leadership in his clubhouse for keeping Segura grounded.
"I think the players are handling that pretty well; they're keeping him in his place," Roenicke said. "He's got Aramis [Ramirez] right beside him all the time, and Aramis really keeps him in his place and keeps him focused on what he needs to do. So when you have a player like that who can do it, the coaching staff just continues to talk to him about the little things to try to get him better."
Better? Hard to imagine that is even possible, but players with Segura's skills and drive do not come around often.
Segura "is not satisfied with just doing things OK," Roenicke said, "he wants to get better. He wants us to tell him when he's doing something wrong that he needs to work on. I think that our part is to just direct him in that way."
Patrick Donnelly is a contributor to MLB.com. This story was not subject to the approval of Major League Baseball or its clubs.