Brewers host pre-Draft workout at Miller Park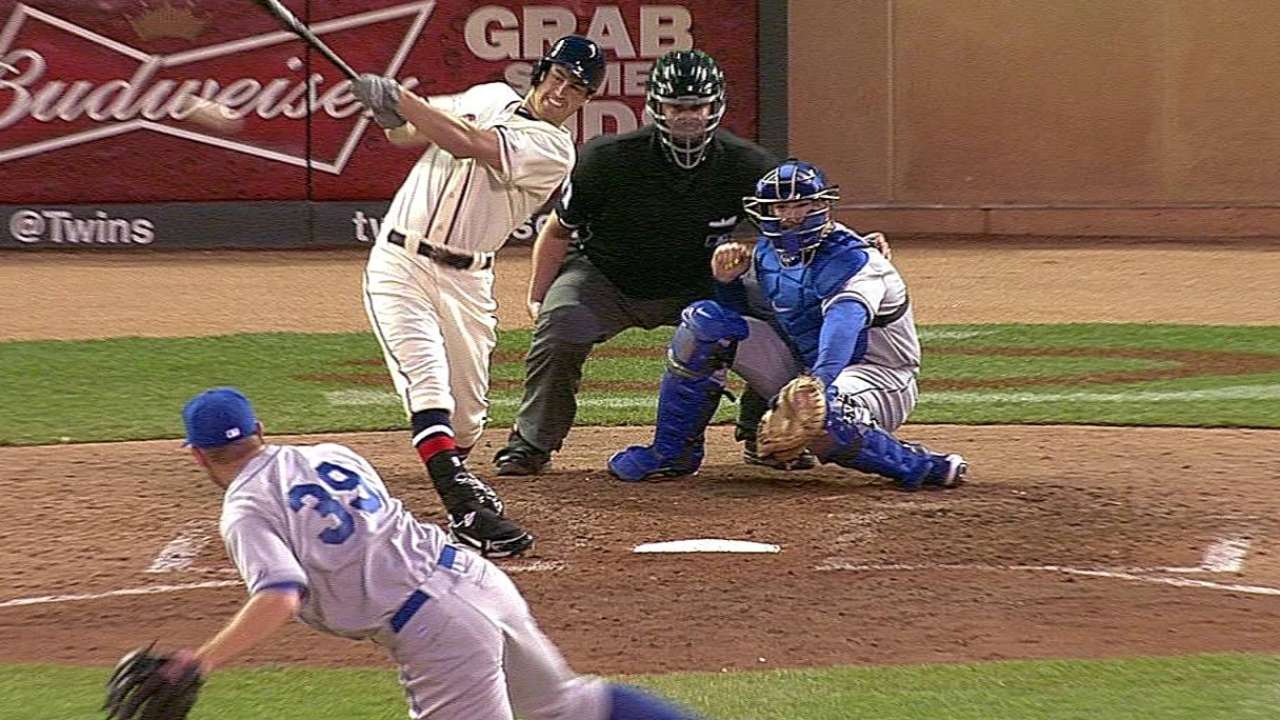 PHILADELPHIA -- The Brewers hosted about 20 amateur players for a pre-Draft workout at Miller Park on Thursday, one week before the start of the First-Year Player Draft. Prospects came from all over the country, including baseball-rich California, Florida and Texas, amateur scouting director Bruce Seid said.
The Brewers surrendered their first-round pick to sign free agent Kyle Lohse, but have three selections among the Top 100: Nos. 54, 72 and 90.
"Though it was a smaller group, due to not having a first-round pick, it was still a quality group, and definitely several players with Top 10-round potential," Seid said.
Which begged the question: What exactly happens at those secretive showcases?
Brewers outfielder Logan Schafer, who attended the Brewers' workout in 2008, supplied some answers.
"Essentially what it is, the guys they're interested in -- whether it's a real top prospect or somebody under the radar that they just want to see more of -- they invite you for a workout," Schafer said. "I got invited to five of them, and the only one I went to was the Brewers' one. They're expensive. They say they'll give you your money back if they draft you, but that's a longshot, because there's kids from all over in this thing.
"Basically, it's a showcase of skills. They see your arm, they see your actions, they see how you field, how you handle yourself. Then we did a little batting practice and played a simulated game. They get to see what you've got -- your competitiveness, your edge."
Schafer remembers the workout lasting about four hours. He doubled and homered in the scrimmage, and the Brewers selected him with their third-round pick. Pitchers Jake Odorizzi and Evan Fredrickson and outfielder Cutter Dykstra were also drafted by the Brewers after attending the workout.
"I think the big thing is that you've had your scouts all over the country looking at different players; now you get them all in one place and see how they stack up against each other," Schafer said. "Let's say two guys are at the same level on paper, and you don't know how to decide between the two. If they have that workout, they can measure the two on ability, on attitude, on professionalism.
"It was really cool. Coming from college, it was legitimately my first experience on a big league field, and I was in awe of it. At the same time, I was ready to go. I was pumped up."
Adding to his excitement was that Schafer was assigned a shirt with Robin Yount's No. 19.
"I don't even know if they meant anything by it, but it meant something to me," Schafer said.
The Draft will take place Thursday through Saturday, beginning with the Draft preview show on MLB.com and MLB Network on Thursday at 5 p.m. CT. Live Draft coverage from MLB Network's Studio 42 begins at 6 p.m. CT, with the top 73 picks being streamed on MLB.com and broadcast on MLB Network. Rounds 3-10 will be streamed live on MLB.com on Friday, beginning with a preview show at 11:30 a.m. CT, and Rounds 11-40 will be streamed live on MLB.com on Saturday, starting at 12 p.m. CT.
MLB.com's coverage includes Draft Central, the Top 100 Draft Prospects list and Draft Tracker, a live interactive application that includes a searchable database of Draft-eligible players. You can also keep up to date by following @MLBDraft on Twitter. And get into the Draft conversation by tagging your tweets with #mlbdraft.
Adam McCalvy is a reporter for MLB.com. Read his blog, Brew Beat, and follow him on Twitter at @AdamMcCalvy. This story was not subject to the approval of Major League Baseball or its clubs.