Roenicke follows up on missed pick-off call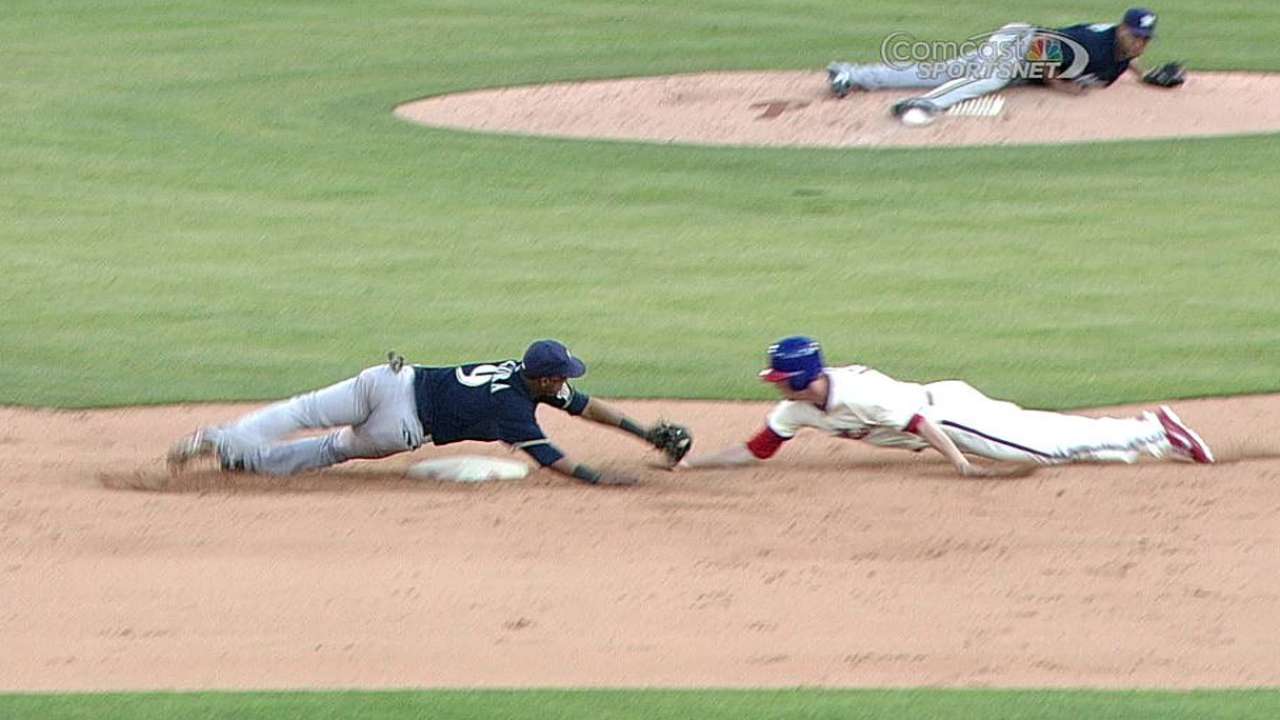 PHILADELPHIA -- A day after the Brewers' most fortuitous break of the season, manager Ron Roenicke had seen a video replay of the pickoff that wasn't. But he disputed the notion that umpire Mike Estabrook's missed call on Saturday gifted the Brewers a victory over the Phillies.
The play came during the bottom of the ninth inning when, with the Phillies trailing by a run and pitcher Kyle Kendrick pinch-running at second base, Brewers reliever Francisco Rodriguez wheeled around and fired a pick-off throw to shortstop Jean Segura covering the bag. Estabrook called Kendrick out, unable to see amid the tangle of bodies that Segura had never caught the baseball.
That call looked even bigger when the batter, Cesar Hernandez ripped a double to right field. Rodriguez ultimately escaped, sealing a 4-3 Brewers victory.
"Yeah, it changed the game, but that also changes the way you pitch, too," Roenicke said. "If that runner is on base, I doubt that Frankie makes the same pitch to the next guy. All of a sudden, a base hit is going to score that run. Instead, with nobody on, you can go at a guy more. So things change completely. It's hard to just say, 'The next guy gets a double so this guy would have scored.'
"You look at the game and, gosh, it shouldn't have been that close. We had a lot of missed opportunities that we should have had more runs."
Estabrook was not the only one who missed the call. From the mound, Rodriguez had no idea that Segura did not catch the baseball. Ditto for Roenicke in the dugout.
"And the baserunner never said anything," Roenicke said. "I certainly couldn't see it from the dugout, not that I would have run out there and said, 'Hey, he dropped it.'"
Adam McCalvy is a reporter for MLB.com. Read his blog, Brew Beat, and follow him on Twitter at @AdamMcCalvy. This story was not subject to the approval of Major League Baseball or its clubs.