Brewers excited about Lucroy's hot streak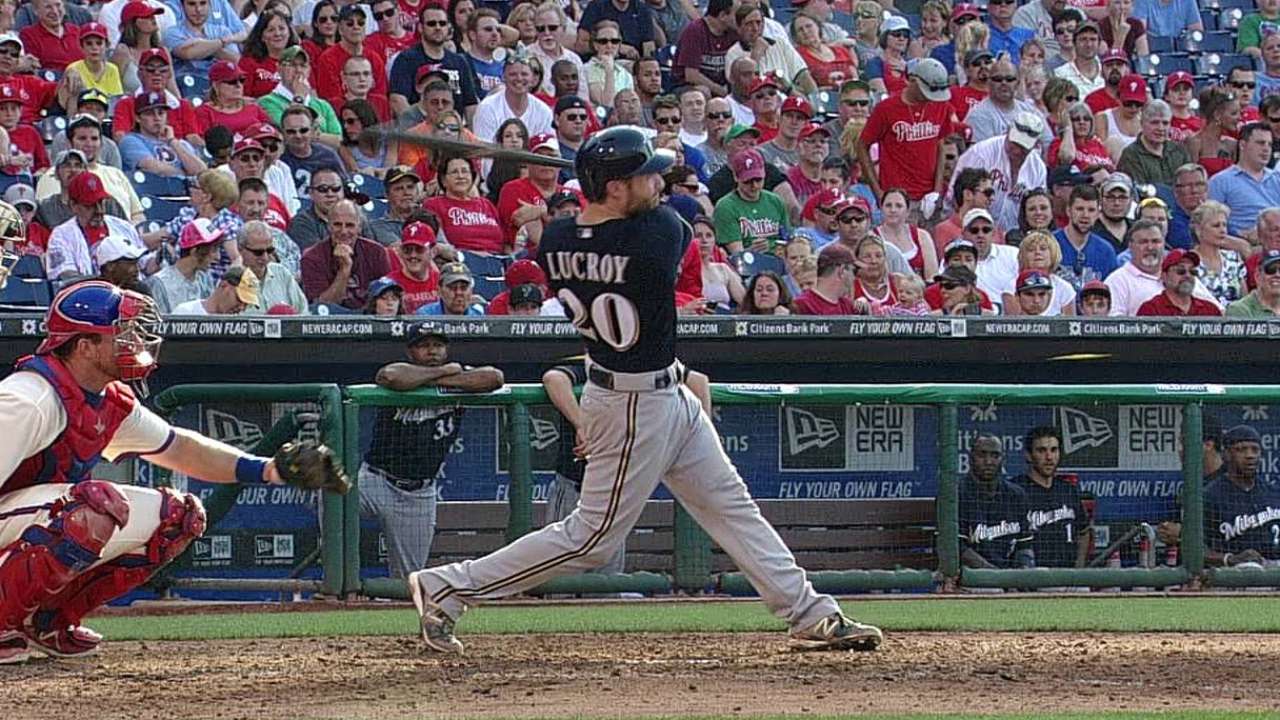 PHILADELPHIA -- Two home runs in Friday's series opener against the Phillies and another on Saturday gave the Brewers hope that catcher Jonathan Lucroy is finding his groove at the plate.
Lucroy entered Sunday's series finale riding a seven-game hitting streak, during which he was 12-for-26 with six RBIs and had boosted his batting average from .221 to .259. This weekend marked the first time in his career that Lucroy had homered in back-to-back games.
"It's a nice thing to have him, whether it hitting behind [Aramis] Ramirez in the five-spot or behind [Carlos Gomez] in the six-spot," manager Ron Roenicke said. "Luc, I thought probably a week ago, had started having better at-bats."
Roenicke's eyebrows really raised on Friday, when Lucroy put the Brewers on the board with an RBI double high off the wall in the second inning, drove in another run with a single amid a four-run fourth and homered in the fifth and again ninth as part of a career-high five-hit performance.
"Jerry [Narron, the Brewers' bench coach] and I looked at each other and said, 'Wow, those are nice swings,'" Roenicke said. "There's a difference in him when you see that he's on time with everything; he's not fighting to put it in play. He's at that point right now. Hopefully, this will last for a while."
"It's been tough my first two months, battling it out, not really feeling that well, not really competing as well as I think I should," Lucroy said. "I wasn't striking out, I was having good at-bats, but the balls weren't finding holes and I wasn't hitting the ball as hard as I should when they miss some pitches. Here, this past week, I feel a lot better and hopefully I can continue it."
Adam McCalvy is a reporter for MLB.com. Read his blog, Brew Beat, and follow him on Twitter at @AdamMcCalvy. This story was not subject to the approval of Major League Baseball or its clubs.