Estrada might miss start with left hamstring strain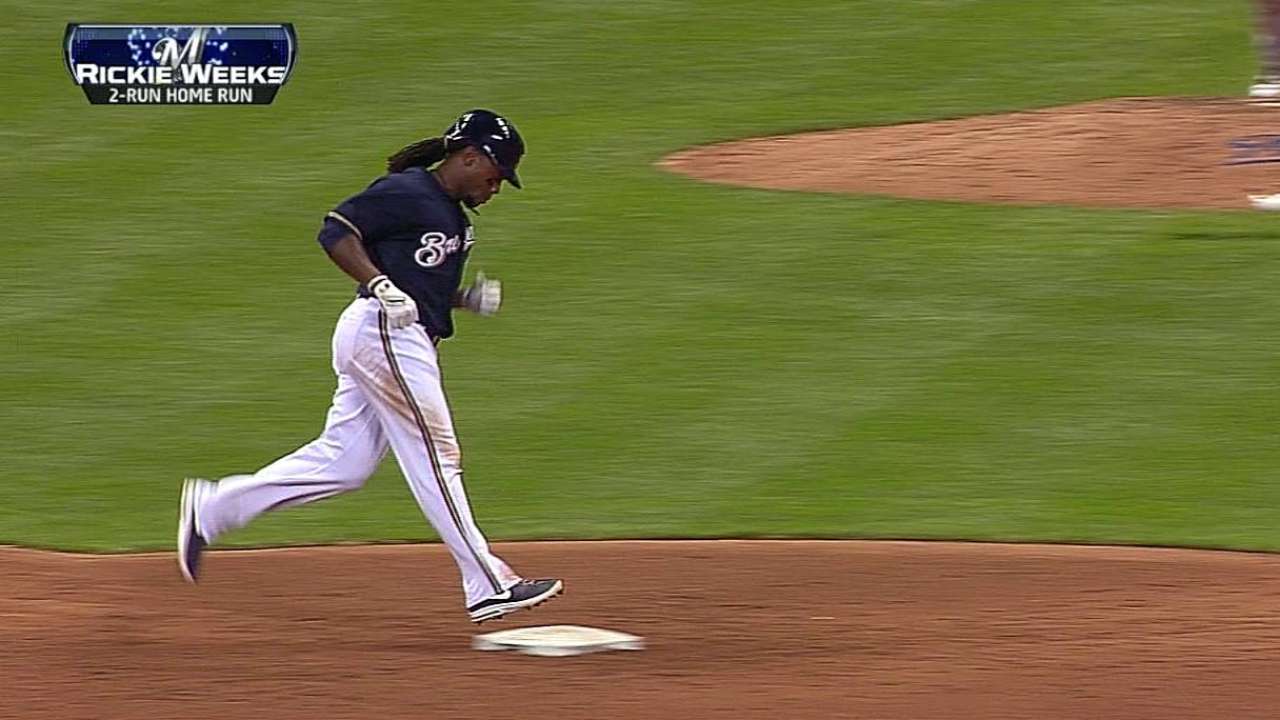 MILWAUKEE -- Brewers starter Marco Estrada, a bright spot lately in a struggling starting rotation, exited Monday's outing against the A's in the fifth inning after straining his left hamstring, and club officials worry he may be unable to make his next start.
"They're calling it day to day and a hamstring 'strain,' but to have to think he's going to pitch in five days?" manager Ron Roenicke said. "I don't know if he can do that."
An extended absence would come at a terrible time for the Brewers, who entered the day with the National League's fourth-best bullpen ERA (2.99), but also ranked fourth in relief innings (189 2/3 in their first 55 games, or just over 3 1/3 innings per game). On Monday, relievers covered the final 15 outs of a 10-2 Brewers loss.
"This couldn't come at a worse time," Estrada said. "We've been struggling, and I felt like I had things under control. Next thing you know, this happens."
Estrada had been Milwaukee's most consistent innings-eater, delivering seven innings in three of his previous four starts. But on Monday he had an active, and abbreviated, night. He surrendered solo home runs in each of the first two innings, and singled in the third.
He was in trouble again in the fifth inning when, with nobody out, a run in and two runners on base after Jed Lowrie's double, head athletic trainer Dan Wright visited the mound. After a brief discussion, Estrada came out of the game.
He had felt a "pop" in his hamstring on the pitch.
"I thought I would be able to stretch it out a little bit, but I felt a pop and a little sharp pain in the lower part of the hammy," Estrada said. "I don't feel like it's really bad, because I've popped it before, and I wasn't able to stand on it. Right now I can put pressure on it and it's fine. It's just trying to extend my leg, trying to stretch it. That's when I feel a sharp pain."
The previous hamstring injury was a tear in 2009, when Estrada was with the Nationals. He had been experiencing some hamstring and quadriceps tightness this season in the same leg, but nothing that prevented him from pitching.
Right-hander Burke Badenhop replaced Estrada with the Brewers trailing, 3-0, and finished what became a six-run inning and an 8-0 A's lead. Estrada threw 86 pitches in four-plus innings and was charged with five earned runs on nine hits.
His next scheduled start is Saturday against the Phillies.
"Hopefully, tomorrow, it feels better, but right now it hurts to stretch it," Estrada said. "I hope [to make the next start]. I really do. But obviously, if it feels like this in the next couple of days, there's no way I'll be able to. I can only hope for the best right now."
Adam McCalvy is a reporter for MLB.com. Read his blog, Brew Beat, and follow him on Twitter at @AdamMcCalvy. This story was not subject to the approval of Major League Baseball or its clubs.