Thornburg recalled after Estrada sent to disabled list
Thornburg recalled after Estrada sent to disabled list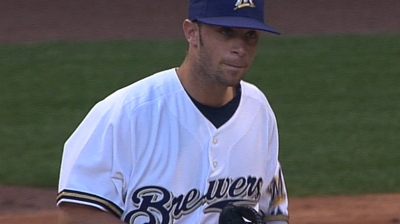 MILWAUKEE -- The Brewers placed right-handed starter Marco Estrada on the 15-day disabled list on Wednesday with a strained left hamstring and recalled top prospect Tyler Thornburg, whose role on the pitching staff was not immediately clear.
However, Thornburg pitched out of the bullpen in Wednesday's 6-1 loss to the A's, throwing two scoreless innings with three hits allowed.
Thornburg arrived at Miller Park before game time on Wednesday and reported to the Brewers' bullpen. The team will need a starter in Estrada's place on Saturday against the Phillies, but manager Ron Roenicke could not commit to Thornburg getting the nod.
"For Saturday's start, we'll figure out whether it's going to be him or somebody else," said Roenicke, who indicated the answer could be dictated by bullpen usage in the preceding games. "We have some other guys and could have a 'bullpen game.' We could do that if we needed to."
Thornburg, who pitched briefly as a Brewers starter and reliever last season, ranks fourth in the Pacific Coast League with 60 strikeouts this season, but was 0-7 with a 6.75 ERA in his first 12 starts for Triple-A Nashville.
He was pitching much better than those numbers indicate, argued two former Sounds teammates.
"I compare it to going up to the plate and lining out to everybody on the field," said second baseman Scooter Gennett. "Really, it was just bad luck. There were times they would score four or five runs and only one or two balls were hit hard."
Said reliever Donovan Hand: "He would cruise through four or five innings, and then some hits, not even hard hits, would get him. I was with him last year when supposedly he was at his best, and he looked the same to me. Good fastball that he rides up, and a good breaking ball. I don't see where that's off. Maybe his changeup has not been going as well as he wants it to be. Maybe this is what he needs -- a confidence boost."
Thornburg's stay with the Brewers could be brief. The team will have to send down a pitcher on Sunday when closer Jim Henderson comes off the disabled list, and could have another move soon thereafter if left-hander Chris Narveson gets through his third start of a rehab assignment at Nashville. Narveson surrendered six runs while throwing 35 pitches on Tuesday, and the Brewers will decide after one more start whether Narveson needs one more outing for Nashville, or if he is ready to join the Major League rotation.
Estrada injured his hamstring on a pitch in the fifth inning of Monday's loss to the A's. He will be eligible for reinstatement beginning June 19.
Adam McCalvy is a reporter for MLB.com. Read his blog, Brew Beat, and follow him on Twitter at @AdamMcCalvy. This story was not subject to the approval of Major League Baseball or its clubs.