Brewers sign third-round Draft pick Astin
Brewers sign third-round Draft pick Astin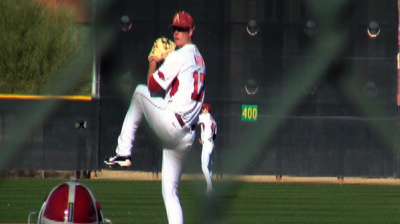 MIAMI -- The Brewers have agreed to terms with one of their top Draft picks.
According to Baseball America's Jim Callis, the Brewers have agreed to terms with third-round pick Barrett Astin. Callis reports the team signed Astin for a $584,300 bonus.
Astin played collegiately at Arkansas and was a key member of the Razorbacks squad that made it to the College World Series in 2012. He led the '12 team with 11 saves, amassing a 1.99 ERA and 61 strikeouts while pitching in a team-high 32 games.
The right-hander moved into Arkansas' starting rotation this past season, posting a 1.79 ERA to go with his 4-4 record and 74 strikeouts over 90 2/3 innings.
Brewers scouting director Bruce Seid said the team would send Astin out as a starter to begin his pro career, but left open the possibility of moving him to relief later on.
David Villavicencio is a contributor to MLB.com. This story was not subject to the approval of Major League Baseball or its clubs.