Schafer, Lucroy, Gomez headline strong Crew lineup
Schafer, Lucroy, Gomez headline strong Crew lineup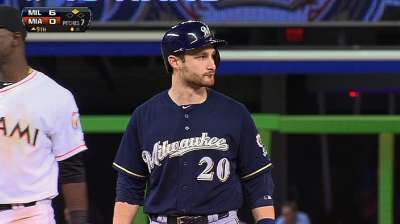 MIAMI -- Replacing key parts of a lineup is never easy, but the Brewers' offense has shined over the past two games.
Milwaukee has scored 15 runs over 18 innings heading into Tuesday's game against the Marlins. Fifteen of those 18 innings were played without All-Star Ryan Braun, who has been resting with a right hand injury.
"I think any time you have one of your big boys out, and you can score and do what we did and get that many hits is big," manager Ron Roenicke said. "Every time I don't have one of those guys in the lineup, I am always concerned about how we're going to do. It's important."
Roenicke turned to Logan Schafer to fill the void in left field and the 26-year-old has responded with three hits through Sunday and Monday. Schafer will look to continue his success in place of an ailing Braun, who did not take batting practice Tuesday for the second consecutive day.
"I like Logan. Any time Logan is out there, starting or off the bench, I like what he does," Roenicke said. "The difference is in the lineup. Without Brauny hitting third, now you have to figure out how to maneuver the lineup around. Logan, the last three or four times he has started, he's gotten hits and played good D. He has been big in our offense."
Schafer filling in nicely has helped, but the Brewers have had several players step up to fill the void left by Braun over the past two days.
"The last couple of games, we've been hitting good, and the pitching has been awesome," outfielder Carlos Gomez said. "We've hit in key situations. When you play good ball games, a lot of good things happen like that."
Gomez, who is batting .322 entering Tuesday's game with a team-leading 11 homers and 33 RBIs, and fellow outfielder Norichika Aoki are two Brewers who have helped spark the team's recent surge in scoring.
"Nori has been pretty much that way all year," Roenicke said. "He has a couple of games where he gets a little off, but he is always getting hits and always out there for the other guys, and Gomez continues to do a good job for us. Those guys at the top are really doing a great job."
Catcher Jonathan Lucroy is another Brewer who has helped pick up the slack with Braun and fellow middle-of-the-order bat Corey Hart out of the lineup. Lucroy, who had four hits and two RBIs in Monday's 6-1 win, believes Milwaukee's offense is only going to get better as the season continues.
"We are a good-hitting lineup without Brauny in there, and most people talk about Corey Hart not being there, and we are a good-hitting team without him, too," Lucroy said. "Whenever Brauny is healthy and Corey is healthy, we're going to become that much better and have more depth. I think we're one of the best-hitting teams in the big leagues. When we are on, we show it like we did [Sunday] and [Monday], so hopefully we can keep it going."
David Villavicencio is a contributor to MLB.com. Joe Morgan is an associate reporter for MLB.com. This story was not subject to the approval of Major League Baseball or its clubs.