Francisco starting to flash prodigious power
Francisco starting to flash prodigious power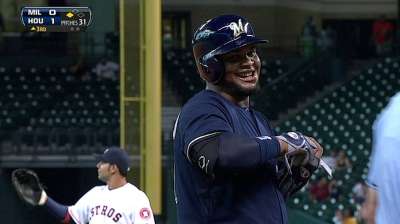 HOUSTON -- Juan Francisco suddenly leads the Brewers in well-struck baseballs, a good sign for a team hoping to reap his power this summer.
Francisco, acquired in a June 3 trade with the Braves, had three hits in Tuesday's loss to the Astros, equaling his hit total from his first 11 games with Milwaukee. Just as encouraging was the nature of those hits -- a triple to center field in the third inning, a single off the tall left field wall in the fourth and a sharp infield single in the ninth.
Two days earlier in Cincinnati, Francisco was 0-for-4 with two "loud" lineouts. The day before that, he had three RBIs, including his first Brewers home run.
"Finally, with the help of a couple of teammates and the coaching staff, I've started getting better and better," Francisco said, with catcher Martin Maldonado interpreting. "I'm trying to swing at strikes, stay more focused on the strike zone and put the ball in play.
"I know I have power, but I know I can hit the ball on a line, put a good swing on the ball, it can go out. I'm more focused on line drives."
Francisco has been "great" at first base, according to infield coach Garth Iorg, a position Francisco had never played in the Major Leagues before his Brewers debut. If he continues to hit for the power Brewers officials expect him to, he could give the Brewers an option at that position or his natural spot, third base, where Aramis Ramirez has been playing on a bum knee.
If Ramirez becomes trade bait nearer the non-waiver Trade Deadline, Francisco is a potential replacement.
"Hopefully, whether it's that he's relaxing or just more comfortable and confident, whatever the case, we see the guy that we hoped we'd get when we brought him over here," manager Ron Roenicke said. "He's an intriguing guy. He's got some really ridiculous power. If we can just smooth out some of the things with his mechanics, he's a nice fit."
Adam McCalvy is a reporter for MLB.com. Read his blog, Brew Beat, and follow him on Twitter at @AdamMcCalvy. This story was not subject to the approval of Major League Baseball or its clubs.