K-Rod approaches 300th career save
K-Rod approaches 300th career save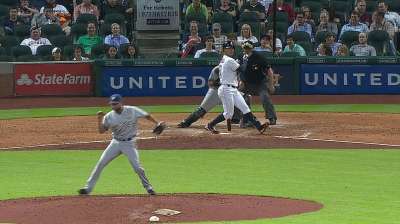 HOUSTON -- By working around a pair of one-out singles in Wednesday's 3-1 win over the Astros, Francisco Rodriguez moved to the brink of a milestone he has been chasing for nearly two years.
It was his 299th career save, but only his eighth since the Brewers traded for Rodriguez on the night of the 2011 All-Star Game and made him a setup man. Since then, he has been patiently inching closer to becoming the 25th pitcher in Major League history to log 300 saves.
Now that he was on the cusp, "the adrenaline is going to be there, for sure," Rodriguez said. "I'm going to prepare myself the same I do every day and be sure to stay aggressive against those guys."
Rodriguez has five saves this season, most coming while closer Jim Henderson was on the disabled list with a hamstring injury. Henderson is back now, and he is the regular closer again, according to manager Ron Roenicke, with Rodriguez ready to fill the role when Henderson is unavailable.
So why did Henderson pitch the eighth innings of Wednesday's win and Thursday's loss? On Wednesday, it was a "need to pitch" day for Henderson, who had been idle on all but one of the previous seven days. With the Brewers trailing, 1-0, after seven innings, Henderson was already warming in the bullpen when Rickie Weeks hit a go-ahead, two-run home run. Instead of sitting Henderson down and holding him for the ninth, Roenicke opted to pitch Henderson as scheduled and used Rodriguez for the save.
On Thursday, Roenicke said it was because he preferred Henderson against Astros catcher Carlos Corporan, who had homered in his only at-bat against Rodriguez. It did not work out; Corporan hit a game-tying home run off Henderson and the Brewers went on to lose.
"I'm hoping we get on some winning streaks and we can have a lot of save opportunities] in a row," Roenicke said. "When you do that, Henderson is going to pitch a lot and is going to need a day. When he needs a day, Frankie is there. But if we just go in a normal game and everybody is rested ... we'll set it up [with Henderson as the closer].
"I told Frankie, all of us obviously want him to get that 300. But I don't want to just do things because of numbers. We need to win games, we need to try to do things the way we think it's best."
Adam McCalvy is a reporter for MLB.com. Read his blog, Brew Beat, and follow him on Twitter at @AdamMcCalvy. This story was not subject to the approval of Major League Baseball or its clubs.