Estrada to make rehab start with Class A Wisconsin
Estrada to make rehab start with Class A Wisconsin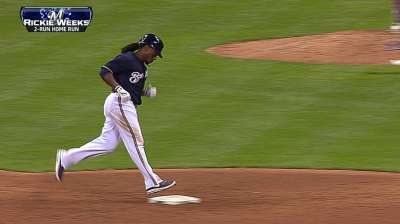 MILWAUKEE -- The Brewers announced Saturday that starting pitcher Marco Estrada will begin a rehab assignment on Sunday with Class A Wisconsin to complete his return from a strained left hamstring sustained in early June.
Brewers manager Ron Roenicke said that hopefully Estrada's start against Cedar Rapids in Appleton will be the only rehab start the right-hander will need before returning to Milwaukee.
"We'll see how it goes. If he still feels it in his leg, then we'll maybe have to go another one," Roenicke said.
Estrada left his June 4 outing against the A's after feeling a pop in his hamstring on a fifth-inning pitch, and he was placed on the 15-day disabled list the next day. He was evaluated by team doctor William Raasch after throwing a light bullpen session before Friday's game.
The Timber Rattlers have an off-day Monday and begin a four-game road trip Tuesday, which is why Estrada will take the mound Sunday.
Roenicke hinted that Estrada could return during the Brewers' series in Pittsburgh the last weekend of June.
"The plan is that he goes out tomorrow and pitches," Roenicke said. "And then we do need a spot starter or a guy that at least goes back into the rotation, probably the 28th or the 29th."
Estrada was just finding his stride before his hamstring injury. The righty went 2-2 in May with a 5.40 ERA, despite allowing eight earned runs to the Cardinals in 3 1/3 innings to start the month.
"I'm pretty excited that I'll be going out soon to make a start somewhere," Estrada said on Friday. "So I just have that left and I'll get my butt back over here."
Kevin Massoth is an associate reporter for MLB.com. This story was not subject to the approval of Major League Baseball or its clubs.