Brewers place Figaro on DL, recall prospect Hellweg
Brewers place Figaro on DL, recall prospect Hellweg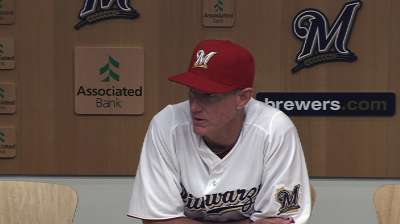 MILWAUKEE -- The Brewers placed right-hander Alfredo Figaro on the 15-day disabled list after Tuesday's 9-3 win against the Cubs with a right oblique strain. Johnny Hellweg will be called up from Triple-A Nashville to take Figaro's roster spot.
Hellweg will start and make his Major League debut in Friday's opener in Pittsburgh, becoming the 10th Brewers pitcher to start a game this season as they push Donovan Hand back to Saturday.
"Figaro's hurt, so we need another starter again," manager Ron Roenicke said. "The problem is if we go to the bullpen, to [Tom] Gorzelanny, we don't really have a long guy to come up and fill those spots."
Roenicke said Figaro was first hurt three starts ago against the Marlins after laying down a bunt and colliding with Miami catcher Rob Brantly. Figaro felt it again in his last start against the Braves on Sunday.
Figaro began the year in the Brewers' bullpen, but has started five games due to several pitching staff injuries. He is 1-2 with a 4.62 ERA.
Hellweg went 7-4 with a 2.82 ERA in 14 starts this season for Nashville and is the club's third-ranked prospect, according to MLB.com.
Kevin Massoth is an associate reporter for MLB.com. This story was not subject to the approval of Major League Baseball or its clubs.