With Weeks heating up, Brewers option Gennett
With Weeks heating up, Brewers option Gennett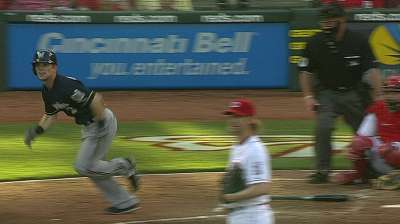 MILWAUKEE -- Scooter Gennett was about 2 feet short of a pinch-hit, walk-off home run in the ninth inning of the Brewers' 5-4 loss to the Cubs on Wednesday night at Miller Park.
Turns out he that will be his last Major League memory for the time being, as the team optioned him to Triple-A Nashville after the game and purchased the contract of first baseman/outfielder Sean Halton.
"With Rickie [Weeks] swinging the bat as good as he is, we'd like to play Rick more," Brewers manager Ron Roenicke said. "We really like Scooter, we don't want him sitting here. He did a nice job for us. Played good defense, almost had a big hit for us here today."
Gennett was called up from Nashville on June 3 and saw plenty of time with Weeks' early season struggles. He appeared in 17 games, including 10 starts at second base. The 5-foot-10 left-handed hitter hit .214 with a home run and five RBIs.
But once Gennett joined the team, Weeks turned a corner and is in the midst of a hot month, hitting .435 with five home runs and nine RBIs in June as he rides a 10-game hitting streak.
"It's unfortunate, but I'll take the opportunity to get better and be more prepared when I come back," Gennett said. "I take a lot from the experience, being able to learn from guys that have been playing the game for a while. Just try to take as much as I can back and incorporate it into my game and hopefully get better."
Cubs manager Dale Sveum had good things to say about Gennett after watching his ninth-inning fly ball come up just short of the right-field wall.
"When that ball left the bat, I ain't lying, I thought it was a homer, especially in this ballpark," Sveum said. "I like that kid. He's going to be a good Major League player. He came over to big league camp when I was over there. I've seen him hit some bombs. That little guy can hit the ball a long way."
Roenicke said Halton can play first base, left field and even a bit of right field. The move also gives the Brewers a right-handed outfield bat.
Halton hit .288 with nine home runs and 35 RBIs in 66 games for Nashville this year.
Kevin Massoth is an associate reporter for MLB.com. This story was not subject to the approval of Major League Baseball or its clubs.