Braun likely out until after All-Star break
Braun likely out until after All-Star break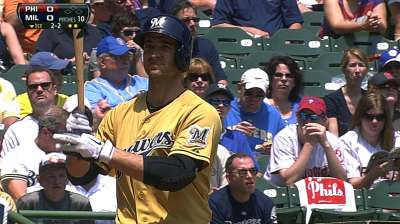 WASHINGTON -- Brewers outfielder Ryan Braun was encouraged after swinging the bat Tuesday, but the Brewers remain prepared to play without him until after the All-Star break.
"I think the way we're heading and the way it's looking, I would say that's a good possibility," manager Ron Roenicke said before Braun took those encouraging swings. "Unless things change in a hurry, where he swings and the next day there's no pain, and he swings again and now we can accelerate that. But it doesn't look like it's going to be that way."
That remained the case after a 4-0 win over the Nationals, though Roenicke had some hope. Braun has been on the disabled list since June 14 with an irritated nerve between his right thumb and forefinger.
"We're making progress with it," Roenicke said. "We're still not there, but we'll see [Wednesday] a lot more. The last time he did it, the next day he was sore."
Braun's swings took place in the batting cages below Nationals Park. It was the first time he'd picked up a bat in a week.
"Just dry swings. I didn't hit in the cage or anything, but it was good. I felt good," Braun said. "Definitely progress from last time, and that's encouraging. We'll see where it's at [Wednesday], and then check in and see what the game plan is."
Pressed for a timetable, Braun said, "I really don't know. There's no plan. I would imagine there would be a process and a progression I'll have to go through to even get close to that point. But everything else is fine. I'm in shape and ready to play. I just have to get to the point where it's not pain free, but it's better than it was.
"I have an open mind, for sure. As soon as it feels good, I'm playing."
Adam McCalvy is a reporter for MLB.com. Read his blog, Brew Beat, and follow him on Twitter at @AdamMcCalvy. This story was not subject to the approval of Major League Baseball or its clubs.