Segura, Gomez get break from starting lineup
Segura, Gomez get break from starting lineup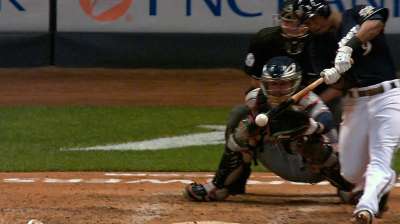 WASHINGTON -- Brewers manager Ron Roenicke said he had no choice Tuesday but to sit his two most productive hitters, saying shortstop Jean Segura and center fielder Carlos Gomez both needed a day to rest nagging ailments.
Segura, the Brewers' two-hole hitter and leading candidate for the National League All-Star team, has been playing with a sore right thumb and was scheduled to take Tuesday off. Gomez returned last week from a left shoulder injury.
"To take two guys out of the Nos. 2 and 3 hole, that's not something I wanted to do," Roenicke said. "I talked to Gomez yesterday before the game and said I needed to do it some time, [because] he's pretty sore. Watching him [Monday, when Gomez went 0-for-5 with three strikeouts], I probably should have done it yesterday. So, he needs it today, and [Segura] needs it, too.
"We're trying to get them back healthy. They're both such an important part of our lineup this year."
That lineup is currently without usual three-hole hitter Ryan Braun, who is on the disabled list with a right hand injury, and projected five-hole hitter Corey Hart, who is out for the year with knee injuries. Cleanup hitter Aramis Ramirez continues to play on a left knee that is far short of 100 percent.
Roenicke did not expect Segura's or Gomez's ailments to cost them significant playing time. Gomez spoke to reporters Tuesday with a device attached to his shoulder delivering electric pulses to the muscles around the joint. He said he expended to return to action on Wednesday.
"It's getting better, but it's still sore," Roenicke said. "It's not just the hitting, it's when he gets on base and he has to slide. I don't know if you guys have noticed, but he's been sliding feet first. To have to try to change his game to continue to go out there when it's sore, we thought it was best that we give him a day."
Adam McCalvy is a reporter for MLB.com. Read his blog, Brew Beat, and follow him on Twitter at @AdamMcCalvy. This story was not subject to the approval of Major League Baseball or its clubs.