Narron 'surprised' by Bailey's no-hitter
Narron 'surprised' by Bailey's no-hitter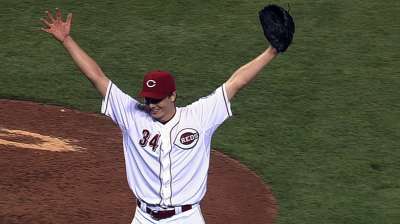 WASHINGTON -- Homer Bailey's first Major League manager expressed surprise on Wednesday that the Reds right-hander has thrown baseball's last two no-hitters. But that was no knock on Bailey.
"I'm surprised when anybody throws a no-hitter," said Brewers bench coach Jerry Narron, who was in his final season as Reds skipper when Bailey arrived in 2007. "Two no-hitters? That's legit."
Less than 10 months removed from his no-hitter in Pittsburgh last September, Bailey blanked the Giants for nine no-hit innings in a 3-0 win Tuesday night in Cincinnati. He became the first pitcher since fellow Texan Nolan Ryan in 1974 and '75 to throw two no-hitters without another big league pitcher accomplishing the feat in between. And Bailey joined Mark Buehrle, Roy Halladay and Justin Verlander as the only active pitchers with multiple no-hitters.
A lot has changed in the six years since Bailey was called up to the Reds during a trip to Philadelphia in '07. He was a 21-year-old who showed up at the ballpark with a huge hunting knife in a case attached to his belt. Bailey was a former first-round pick with a reputation for being mostly interested in hunting and fishing.
Now he's a pitcher.
"Very few pitchers come up and really dominate right away," Narron said. "He was a 'stuff' guy, threw hard, but he had to learn how to pitch and get a feel for what he was doing. He's found it."
Developing a feel for the offspeed stuff made all the difference, Narron said, but Brewers manager Ron Roenicke said it's still about Bailey's fastball.
"It's live. He's got an explosive fastball, and he knows how to throw it right here," Roenicke said, holding his hand at the letters on his jersey. "That pitch is really difficult from a guy who has life on his fastball. I saw an article on our first trip [to Cincinnati] that talked about him getting back to throwing that high fastball again, and it works. It's a really difficult pitch to catch up to."
Adam McCalvy is a reporter for MLB.com. Read his blog, Brew Beat, and follow him on Twitter at @AdamMcCalvy. This story was not subject to the approval of Major League Baseball or its clubs.