Taller batting stance helping Halton
Taller batting stance helping Halton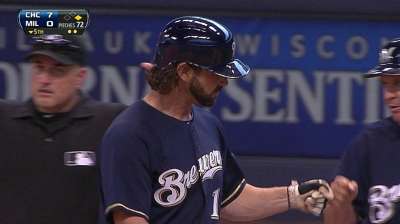 WASHINGTON -- Recent Brewers callup Sean Halton literally looks like a different hitter than the club saw in Spring Training. He's now swinging with a much more upright batting stance versus a wide stance and deep crouch in the spring.
"For me, standing a little taller makes me feel a little more offensive," he said. "Sometimes that crouch gets a little defensive. If you ask anyone in here, it's about that offensive mentality."
Halton, who went 4-for-14 in the first five games of his big league career entering Wednesday, when he made his first start at first base, likes to tinker with his stance and his hands. He said he made four or five significant adjustments in Spring Training alone.
In Wednesday's 4-1 win over the Nationals, Halton doubled, scored a run and struck out in four at-bats.
When he was struggling earlier this season with runners in scoring position, Halton talked with Triple-A hitting coach Bob Skube about an adjustment.
"I was looking at my numbers with runners in scoring position, and they weren't as good as with nobody on, nobody out," Halton said. "So I was trying to find a way to get on time with guys who were a little quicker to the plate. That kind of led me to the high hands, which led me to the tall stance."
Halton, who got a chance to impress Brewers coaches after he replaced injured Mat Gamel in big league camp, was batting .288 with nine home runs and 35 RBIs at Triple-A Nashville when the Brewers promoted him last week.
"It's all a game of adjustments," Halton said. "I'm just trying to find a way to compete and be a factor."
Adam McCalvy is a reporter for MLB.com. Read his blog, Brew Beat, and follow him on Twitter at @AdamMcCalvy. This story was not subject to the approval of Major League Baseball or its clubs.