Dillard sets Triple-A Sounds wins record
Dillard sets Triple-A Sounds wins record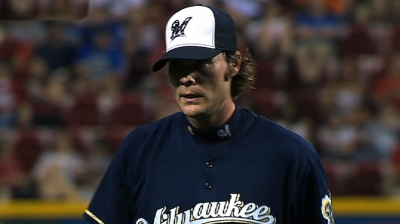 WASHINGTON -- Yes, Tim Dillard has seen the film Bull Durham, but, no, he does not consider himself Nashville's version of Crash Davis.
Davis, the Kevin Costner character in the 1988 classic, was less than jubilant about setting the Minor League home run record, a dubious mark in that it required so many years in the bushes. But Dillard happily set a Nashville Sounds mark earlier this week when he logged his 36th victory on Sunday, setting a record for a franchise that dates back to 1978.
It was a record two years in the making. Dillard, a former Sounds starter who switched to side-arming relief, had long been tied at 35 victories with Keith Brown (1988-92).
"I think it's great," Dillard said. "We've been tied for like, two years, and at the time I was like, 'I'm going to have lots of opportunities.' Then things don't work out like you planned."
There was the switch from an over-the-top starter to a submarining reliever. There was a stint with the independent Lancaster Barnstormers. Then there was a call back to the Brewers' Triple-A club after one of the Sounds pitchers, Chris Jakubauskas, was injured.
For Dillard, a Nashville resident, it was a no-brainer.
"I'm here and I'm loving baseball probably more than I ever have," said Dillard, who posted a 2.05 ERA in his first 18 Sounds appearances and held right-handed batters to a .098 batting average. "If I ever took the game for granted, I have to apologize. I'm just enjoying this."
Adam McCalvy is a reporter for MLB.com. Read his blog, Brew Beat, and follow him on Twitter at @AdamMcCalvy. This story was not subject to the approval of Major League Baseball or its clubs.