Brewers aiming for healthy Braun, Aramis after break
Brewers aiming for healthy Braun, Aramis after break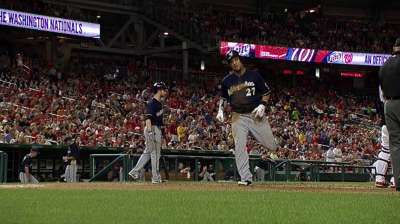 MILWAUKEE -- The Brewers have a plan to ease left fielder Ryan Braun into action during the final series before the All-Star break and to back third baseman Aramis Ramirez off, aiming in both instances to come out of the break with a healthy tandem in the middle of the lineup.
Manager Ron Roenicke views getting those two players healthy -- Braun's right hand and Ramirez's left knee -- is key to the Brewers climbing out of the National League Central cellar. The Brewers also hope to get right-handed starter Marco Estrada (left hamstring) off the DL after the break.
"Somewhere along here, we certainly want to be a good team and a team that's consistent for a while," Roencike said. "That's what we've been missing; we'll have a couple of good games and then play a couple of bad games. Then have a bad series, and then have a couple good series. It's tough when you see [that].
"With everybody healthy, we're a good team. With the injuries that we have, we still feel like we should be playing a lot better baseball than we have been. The consistency is all over the place. From game to game, we don't know how to play."
If that sounds like a frustrating situation for a big league manager, it is.
"At times, it's hard to watch," Roenicke said. "There's times out there where I can't believe we're playing that poorly. Thank goodness you play every day, and you don't see it the next day. That's a good thing."
Braun, on the disabled list since June 14 because of an inflamed nerve between his right thumb and forefinger, will take batting practice Monday and Tuesday and could be activated from the DL to play limited innings against Arizona in the Brewers' final series before the break. Ramirez, meanwhile, will be held out of the lineup for much of that series, hoping to use those days off combined with the four-day break to build strength in a balky knee that has sapped his power over the past two months.
Thursday looks like the most convenient day for the Brewers to make a roster move to accommodate Braun's return, with young right-hander Johnny Hellweg slated to start against the Reds on Wednesday afternoon.
"I wouldn't say [Thursday] is as soon as he could play," Roenicke said, "but I think that's probably a good thing to shoot for. I know he's probably wanting to go before that, but we'll see how it goes [Monday] and the next day."
Braun would not play all nine innings at the start, nor would he play all four games against the D-backs.
"He's got to get his legs under him," Roenicke said. "If we can get him maybe back before the All-Star break and let him play in some games, and then use the break as kind of how you would recuperate in Spring Training, that would be ideal."
As for Ramirez, he has been playing at far less than 100 percent since a month-long stint on the DL in April and early May that came after he sprained the same knee he injured in Spring Training. He is batting .271 with five home runs and 26 RBIs, far off his 27-homer, 105-RBI output from last season.
He exited Saturday's win over the Mets because of discomfort in the knee and had Sunday off, but was expected back on Monday against the Reds.
"I know if you look at numbers, you may say, 'Well, you would have been better to rest him,' but we didn't know coming into this what kind of production that we would get out of him," Roenicke said. "We were hoping we would still get quite a bit, knowing that he wasn't 100 percent.
"Who knows? Maybe Monday he comes out and he hits a couple home runs. You don't know where it's going to go."
Adam McCalvy is a reporter for MLB.com. Read his blog, Brew Beat, and follow him on Twitter at @AdamMcCalvy. This story was not subject to the approval of Major League Baseball or its clubs.