Schafer takes blame for baserunning snafu
Schafer takes blame for baserunning snafu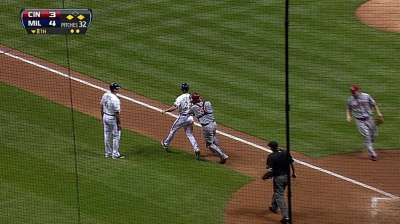 MILWAUKEE -- Brewers outfielder Logan Schafer took the blame for the awkward end to the eighth inning in Monday's 4-3 victory over the Reds, saying he had his head down when he broke for home on what turned into an inning-ending double play.
It came moments after a squeeze play nearly went awry because of what manager Ron Roenicke called a missed communication. Schafer had doubled and stolen third base, then broke for home when Norichika Aoki hit a one-out fly ball to shallow right field.
Strong-armed outfielder Jay Bruce made the catch and fired a throw to the infield. Meanwhile, Brewers third-base coach Ed Sedar had positioned himself way down the line, so he could see Bruce's positioning on the catch and still have time to give Schafer direction. It was not until Schafer was more than halfway home that he raised his head and Sedar threw up the stop sign, causing Schafer to stop dead in his tracks.
"I was a little shocked," Schafer said.
Just as surprising, Reds first baseman Joey Votto had cut off the throw home. So instead of scoring without a play, Schafer was out in a rundown, right field to first base to third base to catcher.
Schafer took the blame.
"That was my bad," he said. "I knew if I went, it was going to be a close play, so I had my head down running. I should have picked up Eddie earlier. The stop sign came up late, but it shouldn't matter. If you're looking at him the whole time, I should have seen it earlier."
Said Sedar: "Him and I probably haven't done it that much, and he was probably thinking he was going to go all the way. But when you leave the bag, you kind of pick me up, because the throw was from Bruce, one of the best throwers in the game, and I get way down the line so I can see the throw coming, then I held him up. We've had guys do that before, so it wasn't anything strange. It didn't work correctly."
Roenicke said Sedar handled the play correctly.
"I liked where Eddie was, but the thing is, you have to tell that player, and he's got to do it, 'When you take off running, you've got to pick me up right away,'" Roenicke said. "And Schafer didn't pick him up. If Schafer looks at him earlier, he stops him earlier."
Roenicke makes no apologies for the Brewers' aggressive style of baserunning.
"We get a lot of extra bases, and we run into outs," Roenicke said. "It just depends on what type of game you want to play. If you want to be cautious and go station to station, like some teams do, you'd better really hit the ball. You'd better just bash it.
"We've run into some 'dumb' outs, but it's not just here. When I was in Anaheim, we did it all the time, and you create so many more bases and opportunities because you are trying to get the extra base, that you'll sacrifice some of the outs that you'll run into.
"Now, you need guys to learn from them. If the same guy does the same thing over and over -- that shouldn't happen. But once in a while, you're going to misjudge."
Adam McCalvy is a reporter for MLB.com. Read his blog, Brew Beat, and follow him on Twitter at @AdamMcCalvy. This story was not subject to the approval of Major League Baseball or its clubs.