Aoki returns to lineup from elbow stiffness
Aoki returns to lineup from elbow stiffness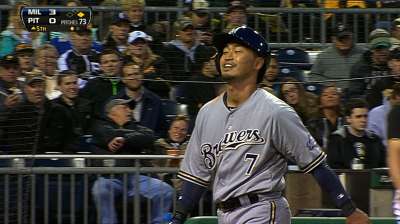 PHOENIX -- Brewers outfielder Norichika Aoki returned to his customary spot in the lineup Thursday, batting first and manning right field after missing the club's last two games with a stiff left elbow.
"I don't know if he's 100 percent, but he feels good enough to play," Brewers manager Ron Roenicke said. "I think he's a lot better today."
Asked whether Aoki will need more days off in the future to make sure the elbow doesn't flare up again, Roenicke said, "No, I think he's good to go."
In his second Major League season, Aoki entered Thursday batting .298 with 18 extra-base hits and 45 runs scored.
Tyler Emerick is an associate reporter for MLB.com. This story was not subject to the approval of Major League Baseball or its clubs.