Brewers to honor Yount with pregame ceremony
Brewers to honor Yount with pregame ceremony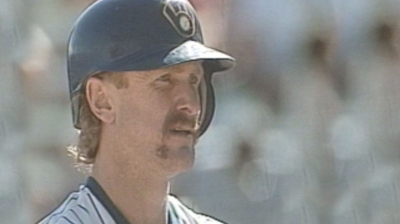 PHOENIX -- To commemorate a Hall of Fame legacy, the Brewers will honor the 20th anniversary of Robin Yount retiring from baseball with a special pregame ceremony Aug. 2 at Miller Park.
Yount, who hung up his cap following the 1993 season, spent the entirety of his 20-year Major League career in Milwaukee and his No. 19 was retired on May 29, 1994, at Milwaukee County Stadium.
To commemorate the two decades since he last suited up, the Brewers will present Yount with an original painting commissioned to remember the occasion and will make a $10,000 donation on behalf of Yount to the MACC Fund (Midwest Athletes Against Childhood Cancer).
Yount will also throw out the ceremonial first pitch and be joined on the field by former teammate and fellow Hall of Famer Rollie Fingers.
"Robin's contributions to the Brewers are far too numerous to list, and we're looking forward to welcoming him back for this special occasion," said Brewers Chief Operating Officer Rick Schlesinger. "His time in Milwaukee was marked by great personal and team success, and it's an era that will forever be remembered as a magical time for baseball in Wisconsin."
The first 30,000 fans through the gates that day for the game against the Nationals will receive a poster of the painting given to Yount during the ceremony.
Yount finished his career with 3,142 hits and was the first player to enter the National Baseball Hall of Fame as a Brewer upon his induction in 1999. Paul Molitor followed suit in 2004. Yount broke into the big leagues at age 18 and won the American League Most Valuable Player Award in 1982 (shortstop) and 1989 (center field), becoming the third player in Major League history to win that award at two different positions.
Tyler Emerick is an associate reporter for MLB.com. This story was not subject to the approval of Major League Baseball or its clubs.