Roles change due to Braun's suspension
Roles change due to Braun's suspension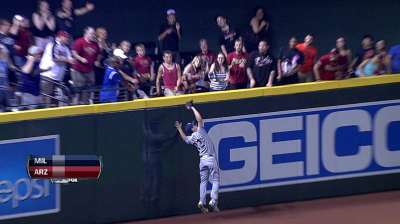 MILWAUKEE -- Logan Schafer will see the bulk of time in left field and shortstop Jean Segura figures to be the reluctant three-hole hitter as the Brewers move forward in the wake of Ryan Braun's season-ending suspension.
Schafer hit second and Segura third for Tuesday's 6-2 loss against the Padres. Schafer went 0-for-3 with a strikeout and Segura 0-for-4 with a strikeout, as the Brewers managed only four hits on the night.
"I know Segura doesn't want to hit third every day," said manager Ron Roenicke, who didn't specify why Segura felt that way. "He told me he's fine with doing it once in a while. He may be hitting third every day. He's handled it well. I like what it does with the lineup. If Schafer is second, I like where it puts [catcher Jonathan] Lucroy fourth and [center fielder Carlos Gomez] fifth. Then it depends on who's hot after that and whether Schafer stays hot in that second spot."
Schafer is the most seasoned of the Brewers' unproven options for left field, and entering Tuesday, was a .230 hitter this season with two home runs, 18 RBIs and four stolen bases in 84 games. Tuesday marked his 44th start.
The Brewers promoted Triple-A Nashville left fielder Khris Davis on Tuesday to take Braun's spot on the roster, and he hit his first career home run in the eighth inning. They also have Caleb Gindl, who can play all three outfield positions, and Sean Halton, who primarily plays first base but can also man left field.
"I feel like I've been a pretty decent part of this team this year, and I've done some things to help win some ballgames," said Schafer, who had already been filling in for Braun during his month-long stint on the disabled list for a hand injury. "Obviously my stats aren't where I want them to be, but I feel like I've been playing pretty good baseball."
Of losing Braun, Schafer said, "It's a big hit to the team, but we have a lot of guys in here who can pick up the slack. We're more than able to hold our own."
Adam McCalvy is a reporter for MLB.com. Read his blog, Brew Beat, and follow him on Twitter at @AdamMcCalvy. This story was not subject to the approval of Major League Baseball or its clubs.