Roenicke would like more answers from Braun
Roenicke would like more answers from Braun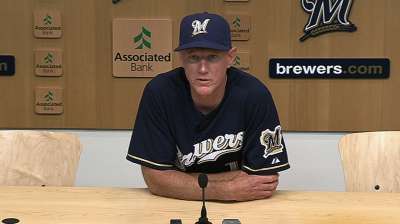 MILWAUKEE -- Ryan Braun's corner locker at Miller Park was still full of baseball gear and uniforms on Tuesday, but the player remained absent on the first full day of his season-ending suspension, leaving teammates and manager Ron Roenicke to face a barrage of questions to which they had no answers.
Braun never said what he was being suspended for. Instead, he spoke in a clubhouse meeting on Monday in vague terms, similar to the statement released later by Major League Baseball, acknowledging "mistakes" and accepting a suspension for the Brewers' final 65 games. Roenicke said he had forgiven Braun, and hoped the players would, too, but added that he'd like more detailed answers, assuming Braun's agreement with Major League Baseball and the Players Association -- not to mention possible legal ramifications -- allow it.
"You guys know me, I always think it's better to just come out and say what's going on," Roenicke said. "There's times that I can't, and when I can't, I usually tell you guys, 'Hey, that's something I can't talk about.' And I don't know how much he can talk about. I don't know the agreement between the [Players] Association, Major League Baseball and himself on what he can say. I would think there's parameters put in place with what he can say regarding this, how much he can explain things.
"Knowing that, maybe he just can't do it."
Of the many unknowns, Roenicke said, "I wish we all knew what was going on. I doubt we ever will. I doubt that I'll ever know what this is all about."
Representatives from Braun's agency, CAA Sports, did not respond to calls for comment on Tuesday. Braun's home is in Los Angeles, but if he chooses to remain in Milwaukee, he would be allowed to work out at Miller Park, an MLB spokesperson confirmed, provided he leaves the field before the gates open prior to a game.
On Tuesday, for the second straight day, Brewers' uniformed personnel were left in the awkward position of answering for Braun in his absence.
"I really don't know enough about it to have a personal, emotional feeling towards it," said Logan Schafer, who takes over as the Brewers' primary left fielder. "I'm kind of sitting around waiting and seeing what happens with it. … I'm sure everyone in this room eventually will know exactly what happened, but until then, it doesn't really matter what we think or what opinions we're making or how he's being killed in the media. What are they killing him for? He just accepted a suspension and nobody knows what it's for."
Roenicke hopes that changes.
"If Major League Baseball allows it, you would hope that some of these things would be clarified from [Braun], that he would be able to give you guys answers instead of us having to do it," Roenicke said. "I think any time players are asked something they are uncomfortable [answering], it's difficult. These questions are difficult for me, and you guys ask me questions all the time. A player who is not used to answering anything other than the game and what they had done, it becomes a difficult situation."
Does Roenicke worry about how his teammates will accept Braun next spring?
"I'm hoping that he's accepted as a player that would be gone for an injury all year," Roenicke said. "Obviously, this is a different situation than an injury. There's a lot more meaning to it, and what happened and how it affects these guys and baseball. Knowing that, these guys are pretty forgiving of their teammates. Staff is pretty forgiving of players. That's our job. Our job is to take whatever 25 men we have here and to try to help them in any way we can."
Roenicke watched a few minutes of the coverage of Braun's suspension on national news networks Monday night, then turned it off. It was difficult to watch for a man whose job, by definition, is to manage situations. This is a situation out of his control.
"I like Ryan Braun," Roenicke said. "He's a very engaging young man. I have a lot of great conversations with him, as I do with a lot of these young players. So any time something happens with one of our guys, I feel it."
Adam McCalvy is a reporter for MLB.com. Read his blog, Brew Beat, and follow him on Twitter at @AdamMcCalvy. This story was not subject to the approval of Major League Baseball or its clubs.