Braun revelations 'shocked' Packers' Rodgers
Braun revelations 'shocked' Packers' Rodgers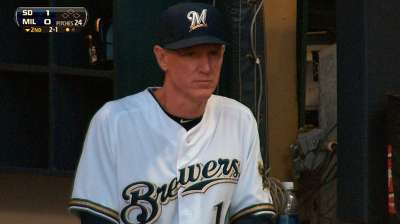 DENVER -- Green Bay Packers quarterback Aaron Rodgers bet his salary on good buddy Ryan Braun's innocence. On Friday, a dismayed Rodgers told reporters that he was lied to, and he cast doubt upon the fellow MVP's friendship and business partnership.
"I was shocked, I really was," Rodgers said, according to Fox Sports Wisconsin's Paul Imig, who is covering the opening of Packers training camp this week. "I was backing up a friend who looked at me in the eye on multiple occasions and repeatedly denied these allegations, said they weren't true. It's disappointing, not only for myself as a friend, but for, obviously, Wisconsin sports fans. ... It doesn't feel great being lied to like that. I'm disappointed about way it went down."
Rodgers and Braun struck up Wisconsin's most famous friendship in 2009 -- a pair of fellow Californians who were about the same age and were both single. They both won MVP Awards for their exploits on the field in 2011 -- Braun the National League MVP who led the Brewers to within two wins of the World Series, and Rodgers the NFL MVP who'd won the Super Bowl the previous season.
Their names and likenesses adorn 8-twelve MVP Bar and Grill in suburban Brookfield -- a nod to Braun's No. 8 and Rodgers' No. 12 -- with a second location planned to open later this year at Bayshore Mall just north of Milwaukee.
Rodgers told reporters that he'd been in contact with Braun since Braun was suspended on Monday. Asked whether their business dealings would continue, Rodgers said, "That's yet to be determined."
Rodgers was among the most vocal supporters of Braun during and after Braun's successful appeal of a suspension during the 2011-12 offseason, often on Twitter.
Last year, a 37-year-old flight nurse from Denver named Todd Sutton tweeted at Rodgers, "you really believe he didn't [use] PEDs????," calling Rodgers "delusional."
Rodgers shot back, "ya, I'd put my salary next year on it," with the hashtags "pony up" and "exonerated."
Rodgers' base salary this season is $4.5 million.
"I don't regret backing a friend up," Rodgers said Friday, according to the Milwaukee Journal Sentinel. "Obviously, in hindsight, a more measured approach would obviously be a better course of action. I definitely believe in forgiveness and moving forward. He has a tough task in front of him moving forward with his career, on and off the field.
"As far as the business goes, right now I'm focused on football, and I have people who can help me with those issues."
Adam McCalvy is a reporter for MLB.com. Read his blog, Brew Beat, and follow him on Twitter at @AdamMcCalvy. This story was not subject to the approval of Major League Baseball or its clubs.