Roenicke to players: 'You can get through this'
Roenicke to players: 'You can get through this'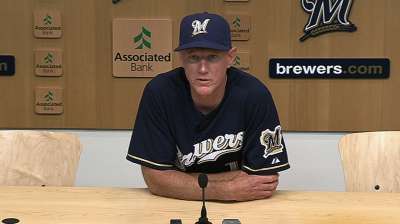 DENVER -- The Brewers' usual pre-series meeting on Friday afternoon covered a whole lot more than the Colorado Rockies.
Manager Ron Roenicke gathered players for nearly 40 minutes and delivered forward-looking remarks about his expectations for the remainder of a season in which everything has gone wrong, from injuries to an under-performing starting rotation to Monday's bombshell suspension of star left fielder Ryan Braun.
Roenicke also addressed the team in the wake of Braun's suspension on Monday, but that focused on the imminent media circus, and Friday "was more about going forward for the rest of the year. I've mentioned to you guys, it's been a tough year. We all know that. It's been a tough year on [the players], but you can get through this, and the more you get through this tough situation, it makes you better ballplayers."
Beginning with Friday's game at Coors Field, the Brewers still had 61 games to play.
"Mostly, it was about what has been going on in the field," Roenicke said. "I know that we're not at full strength, we don't have our big horses in there, but still there are some things I wanted them to know, and how I felt about the rest of the season and where we need to be and what we need to do to win a lot of ballgames. ...
"I think they're still focused. I wanted to make sure, [because] we need to be."
He used Sunday's 10-8 loss to the Padres, in which the Brewers faced deficits of 6-0 and 10-3, as an example.
"I can live with yesterday's ballgame," Roenicke said. "Yeah, we lost. We didn't pitch well. Yo [Gallardo] didn't pitch well. [Michael] Gonzalez had an outing like he hasn't had in a long time. And yet we get way down, and the next thing I know, we're fighting back, and we have a monster inning, and I'm seeing a lot of really good at-bats, a lot of good things happening out there on the field. That's the type of game that I think we build off of, even though we lost the game. That type of effort and attitude is going to win games for us."
Adam McCalvy is a reporter for MLB.com. Read his blog, Brew Beat, and follow him on Twitter at @AdamMcCalvy. This story was not subject to the approval of Major League Baseball or its clubs.