Wooten's spring experience aided him in MLB debut
Wooten's spring experience aided him in MLB debut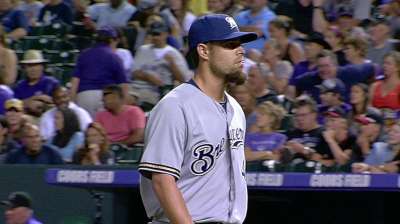 DENVER -- The newest Brewers reliever believes his successful season began at Miller Park long before his Major League debut on Friday night.
Wooten was one of the extra players who made the trip from Phoenix to Milwaukee at the end of Spring Training for a pair of exhibition games against the White Sox. All of them knew that, barring a last-minute injury to someone else, they would not make Milwaukee's Opening Day roster.
In the penultimate game of the spring, Wooten worked 1 2/3 scoreless innings and allowed only one hit before heading to Triple-A Nashville.
"I picked all the brains I could pick in that clubhouse during Spring Training, and I had an opportunity to pitch in Miller Park in that exhibition game, and I think that got my season going in the right direction," he said. "I had some success there and I carried it into Nashville. I knew it wasn't an official big league game, but it was pretty doggone close. The lights were still bright, and the hitters were still Major League hitters."
Wooten allowed two hits and was not charged with a run in 2 1/3 innings in relief of Wily Peralta. He posted a 2.94 ERA and 20 saves in 40 appearances at Nashville before he was promoted Thursday night, becoming the ninth Brewers player to make his Major League debut in 2013. That is one shy of the Cardinals' Major League-leading total this season.
Manager Ron Roenicke, knowing Wooten was a strike-thrower, called on him with two runners on base in the fourth inning.
"Running through the gates, there were a lot of emotions running through me," Wooten said. "I knew my first hitter was Todd Helton -- that's pretty cool, too. But once he got in the box, and I was able to throw that first pitch for a strike, it really settled down. The nerves went away, and it was, 'Back to work.'"
Helton actually accounted for two firsts in Wooten's debut: His first hit allowed, a cue-shot single in that first meeting, and his first Major League strikeout later on.
"I don't think I'm going to change the way I go about my business," Wooten said. "What I did got me here. I'm going to continue to pound the strike zone."
Adam McCalvy is a reporter for MLB.com. Read his blog, Brew Beat, and follow him on Twitter at @AdamMcCalvy. This story was not subject to the approval of Major League Baseball or its clubs.