Former teammates remember late slugger Scott
Former teammates remember late slugger Scott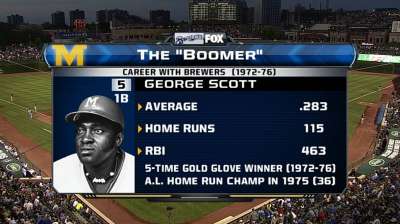 CHICAGO -- True story about George Scott, the former Brewers slugger and slick-fielding first baseman who passed away in Mississippi this week at 69:
"True story, as I remember it," clarified Jerry Augustine, a left-handed pitcher who was teammates with Scott in 1975 and '76, and now works as an analyst for Fox Sports Wisconsin.
"We're in Oakland, and we're sitting on the bench with Hank Aaron, and being on a team with Hank Aaron was just enormous," Augustine said. "So we're sitting there, and George Scott comes down the bench and says, 'Hammer, you see this bat? You're too old to handle this thing! Way too old. It's too heavy for you.' So Hank just took it and held it, then gave it right back to him.
"It comes late in the ballgame, and Hank wasn't in the ballgame [to start]. We're down one run, and it's about the eighth inning and Alex [Grammas, the manager] says, 'Hank, get a bat.' So Hank went over to the bat rack and pulled out one of George's bats and goes to the on-deck circle like he always did and kneeled down with it. Then he went to the plate and hit one about 420 [feet] for a two-run homer. Went back to the rack, stuck the bat in, and George's jaw dropped."
It was a rare quiet moment for a player whose nickname -- Boomer -- fit both his bat and his big personality. Scott hit most of his 271 home runs for the Red Sox and Brewers, winning a pennant in 1967 with Boston and five of his eight Gold Glove Awards during his five seasons with the Brewers from 1972-76.
Another true story: In 1975, Scott tied the Athletics' Reggie Jackson for the American League home run crown, hitting 36 despite playing half his games in pitcher-friendly County Stadium. Every day when he boarded the team bus, someone would ask, "Boomer, did you talk to Reggie today?"
And every day, Scott came up with a farcical answer.
"He'd say, 'Yeah, today I called Reggie, and I said, Reggie, I'm up by one, so all I have to do is hit a tater a day to keep you far, far away,'" Augustine said with a laugh. "It was always stuff like that. He never talked about hitting a home run. It was always a 'tater.'"
Scott had other favorite phrases. His glove was "Black Beauty."
"He cared so much about his defense and worked so hard at it," Augustine said. "He would tell me, 'Don't worry about where you throw it. Get it close to me and I'll go get it.'
"He was a great competitor. A lot of fun to play with. He loved to put on a uniform and he really enjoyed the game."
In 1976, the Brewers traded Scott back to Boston in a deal that brought Cecil Cooper to Milwaukee.
One more true story: Brewers bench coach Jerry Narron remembers catching a Spring Training game against Scott and the Red Sox. On a play at the plate, Narron tagged out Scott and inadvertently tripped him, sending the big man sprawling face-first to the ground. Scott lay there for a moment, then began swimming in the dirt, to the delight of fans.
"He was a showman," Narron said.
The Brewers honored Scott with a bobblehead day earlier this season. The club released a statement after learning of his death.
It read: "This is a very sad day for all of us connected to the Brewers. George Scott was charismatic, an early star of the team and one of the finest defensive players in the game. 'Boomer' -- as he was affectionately known to fans -- will be remembered as a colorful player on and off the field and his five Gold Glove Awards as a Brewer are an accomplishment that will be difficult to top. The entire Brewers community wishes to express their condolences to the Scott family."
Adam McCalvy is a reporter for MLB.com. Read his blog, Brew Beat, and follow him on Twitter at @AdamMcCalvy. This story was not subject to the approval of Major League Baseball or its clubs.