Roenicke doesn't expect any major moves for Brewers
Roenicke doesn't expect any major moves for Brewers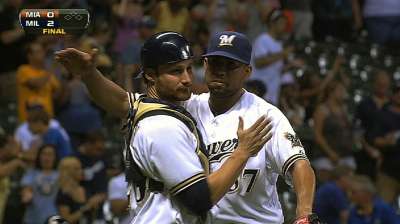 CHICAGO -- Based on his conversations with general manager Doug Melvin, Brewers manager Ron Roenicke is expecting Wednesday's non-waiver Trade Deadline to pass quietly.
"[Melvin] has mentioned the names that come up. I think when they're serious with the players they're offering up, then he lets me know. He says, 'This may happen,'" Roenicke said. "But that's not the case with any of these guys right now."
Instead of watching his team in person at Wrigley Field, Melvin opted to remain with the rest of his baseball operations team at Miller Park, where the Brewers have built a technologically advanced "war room" in the front offices.
The Brewers traded reliever -- and free-agent-to-be -- Francisco Rodriguez to the Orioles last week and have fielded offers on other relievers, but they would have to trade a starting pitcher like Yovani Gallardo or Kyle Lohse to get a significant return. Melvin has said he is not motivated to do so, partly because both of those pitchers are under contract beyond this season.
On Tuesday, Melvin also downplayed the chances of trading right fielder Norichika Aoki, whose contract includes a reasonable $1.5 million option for 2014. Melvin told the Milwaukee Journal Sentinel, "We're not going to move him. We have a need for him, too."
From what Roenicke was hearing, that war room was quiet.
"Yeah, [Melvin is] still getting some calls, but it's nothing heavy," Roenicke said. "But he says, and it makes sense, that things change so fast. Somebody could get an injury somewhere, maybe some pitcher comes in and gets ripped and they change their minds, so things happen at the last minute. That's one of the reasons he is not down here. He thinks he kind of needs to stay up there."
Adam McCalvy is a reporter for MLB.com. Read his blog, Brew Beat, and follow him on Twitter at @AdamMcCalvy. This story was not subject to the approval of Major League Baseball or its clubs.