Lucroy makes first career start at first
Lucroy makes first career start at first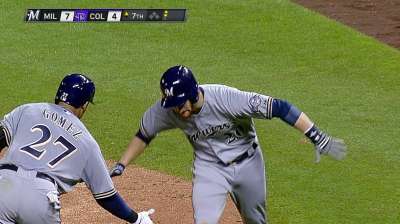 CHICAGO -- The Brewers knew they would have a hard time replacing Prince Fielder when he signed with the Tigers for 2012, but not this much trouble. Jonathan Lucroy on Wednesday volunteered to become the 12th different player to start a game at first for Milwaukee in the past season and a half.
"Being realistic, if you're going to screw up, this is a good time to screw up," said Lucroy, who had previously expressed reservations about manning the position until he had time to learn it in Spring Training. "This is a good year to do it because we're kind of out of it anyway. It's a good time to get some experience out there, some game-speed stuff."
His attitude changed last week when Ryan Braun was lost for the season to a suspension. With Aramis Ramirez and Corey Hart injured, Lucroy knew the team could not afford to be without another big bat on days like Wednesday, when Martin Maldonado was the starting catcher because Wily Peralta was on the mound.
The idea was Lucroy's.
"I went to [manager Ron Roenicke] after Brauny went down," Lucroy said. "I said, 'Look, I've got to stay in the lineup. I've got to. So what do I need to do?' ... We're going to go over there today and do some early work, and basically that's it. I'm just going to try to stop the ball and keep it in front of me. Don't try to be a Gold Glover or anything, just make the routine plays. Keep my bat in the lineup and see what happens."
Roenicke confirmed that Lucroy volunteered. Asked whether it made him nervous to play so inexperienced a player at such an involved position, Roenicke said he was "not any more nervous than some of the other guys."
"I love for a player to do that because that means he's wanting to be in there and wanting to do it," Roenicke said. "Anytime we approach somebody, they may say they want to do it, but down deep, you never know."
Fielder played nearly every day in all of his six full seasons with the Brewers. In 2011, Roenicke's first year at the helm, Fielder played all 162 games, started 159 at first base and played the position for 1,394 2/3 of the Brewers' 1,441 2/3 defensive innings.
Here are the 12 men to start at first base since Fielder's departure: Brooks Conrad, Yuniesky Betancourt, Sean Halton, Juan Francisco, Mat Gamel, Alex Gonzlalez, Taylor Green, Hart, Travis Ishikawa, Blake Lalli, Lucroy and Maldonado.
Before their starts for the Brewers in the past season and a half, six of those players had never played an inning at first base in the Major Leagues: Betancourt, Francisco, Gonzalez, Halton, Hart and Lucroy.
As for whether this could portend a more permanent switch, Lucroy said, "I'm a catcher. I don't think I hit enough to be a first baseman, anyway."
Adam McCalvy is a reporter for MLB.com. Read his blog, Brew Beat, and follow him on Twitter at @AdamMcCalvy. This story was not subject to the approval of Major League Baseball or its clubs.