Estrada progresses, but Roenicke won't rush him
Estrada progresses, but Roenicke won't rush him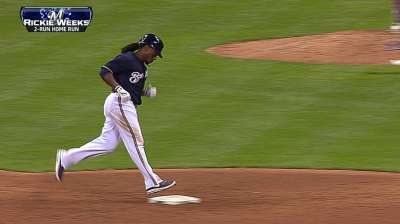 MILWAUKEE -- It has been a long road back for Marco Estrada from a hamstring injury suffered in early June, but he made a bit of progress Friday with a rehab outing at Triple-A Nashville.
Estrada threw 2 2/3 innings and allowed two earned runs on three hits while striking out two and walking two. He threw 47 pitches, 25 for strikes, but Brewers manager Ron Roenicke said he would like to see Estrada make at least one more rehab start before returning.
"I don't want to just bring him back here [before he's ready]," Roenicke said. "We've filled in OK with the starters we have. Ideally, we'd like to get him at least one more start."
Estrada was placed on the 15-day disabled list on June 5 with a strained left hamstring and he has also battled back issues.
The right-hander had a 4-4 record and 5.32 ERA in 12 starts before landing on the DL.
"It's important for him to finish out this season well," Roenicke said. "I don't want to just put him out there when he's not stretched out or he's not throwing the ball that well. Hopefully, we'll make sure he's ready."
Kevin Massoth is an associate reporter for MLB.com. This story was not subject to the approval of Major League Baseball or its clubs.