Texas homecoming for rehabbing Gallardo
Texas homecoming for rehabbing Gallardo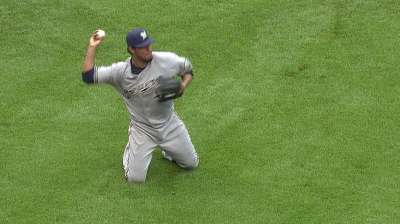 ARLINGTON -- The Brewers' short road trip to Texas provided plenty of comfort for injured starting pitcher Yovani Gallardo, who stayed at home with his family near Fort Worth on Monday night and made strong progress with a bullpen session on Tuesday afternoon.
Gallardo, who pitched for Trimble Tech High School, about 25 minutes west of Rangers Ballpark in Arlington, is likely to pitch on Saturday against the Reds after his injured left hamstring responded well on Tuesday.
"No issues [with the injury] … today was a little bit more intensity, a little bit harder bullpen than normal," Gallardo said.
Gallardo led the Brewers with 33 starts last season but has made only 23 this year, with little chance of throwing 200-plus innings, as he did each of the previous two seasons. He has had difficulty going deep in games in 2013, throwing seven-plus innings in only three starts, while pitching less than five innings six times.
Gallardo said he hopes the break can help him establish some consistency in the final month and a half of the season after he returns.
"That's something that I've struggled with this year," he said about giving his team length. "It's tough, it's been one of those years. But to get the opportunity to go on the DL and work on a few things while you're trying to get back on the mound is important."
Gallardo said his whole family, including son Yovani Jr., 8, and eight-month-old daughter Zayra, were planning to attend Tuesday and Wednesday's games, and he had more hospitable lodging than the team hotel.
"Anytime you get the chance to stay home, that's good," he said.
Dave Sessions is a contributor to MLB.com. This story was not subject to the approval of Major League Baseball or its clubs.