Ramirez returns after stint on disabled list
Ramirez returns after stint on disabled list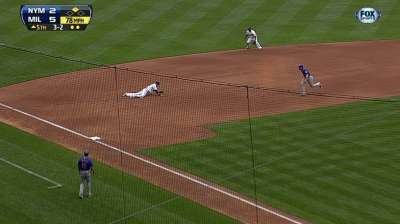 ARLINGTON -- For the first time in more than five weeks, the Brewers' lineup card had Aramis Ramirez's name in the cleanup spot, as the third baseman was activated on Tuesday following a lengthy absence due to a sprained left knee.
Ramirez went 0-for-3 in Milwaukee's 5-1 win over the Rangers before being replaced by Jeff Bianchi at third base to start the bottom of the sixth.
Entering Tuesday's game, Ramirez was hitting .271 with five home runs and 26 RBIs in 54 games this season. The knee has caused him problems all year, and he has had two stints on the disabled list, causing him to miss most of April and July.
"It's just nice to get on the field," Ramirez said before the game. "It's been awhile."
Ramirez elected not to go on a rehab assignment prior to rejoining the team, and he said he doesn't know what to expect with regard to getting his timing back.
"We'll see after I play -- I don't like to get ahead of myself," Ramirez said. "I'm going to face some good pitching here in Texas, and when we get back home, we play St. Louis and Cincinnati. It's kind of a tough road, but we'll see what happens. … It's not the same, I don't care how much [rehab] work you do outside baseball, once you step on the field, it's different."
Manager Ron Roenicke said the plan is to use Ramirez at third base, see how he responds and then most likely use him at a designated hitter in Wednesday's game against the Rangers. After that, Ramirez could be a daily third baseman if things go well, Roenicke said.
"Some guys just come back better than others, but it's usually tough, so I'm interested to see how he's going to do right off," Roenicke said.
For Ramirez, the goal the rest of the season, personally, is quite simple.
"Health," he said. "I want to stay healthy the rest of the year and know I'm healthy and ready to go for Spring Training."
Dave Sessions is a contributor to MLB.com. This story was not subject to the approval of Major League Baseball or its clubs.