Weeks undergoes surgery for torn hamstring
Weeks undergoes surgery for torn hamstring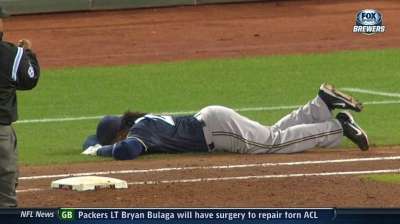 MILWAUKEE -- Brewers second baseman Rickie Weeks took the surgical route for his torn left hamstring, undergoing a procedure Thursday that will require a 4-6 month rehabilitation, but should have Weeks ready for the start of 2014 Spring Training.
Dr. James Andrews performed the surgery in Pensacola, Fla. It was one of two options presented to Weeks after a tendon in his hamstring tore from the bone on Aug. 7 in San Francisco. Because the tendon in question -- the semitendinosus -- is sometimes harvested and used in ACL repairs, Weeks could have simply strengthened the surrounding muscle and played on. The other option was surgery in which the tendon was re-attached to the bone.
The advantage of the surgical option, Brewers head athletic trainer Dan Wright explained last week, "is it allows you to get back to the normal anatomy, so to speak. That's the advantage -- you try to get the leg as back to normal anatomy as you can. Without doing that, the leg can still heal and function, but theoretically you're working on two-thirds of the hamstring as opposed to the full hamstring.
"Rickie's a strong guy. He's one of our best, most compliant, most dedicated guys. There's no question he's going to make a full recovery."
When he returns, Weeks will be entering the final guaranteed season of his contract. The remainder of this season amounts to a tryout for second-base prospect Scooter Gennett.
Weeks will earn $11 million in 2014, the final guaranteed season of his four-year, $38.5 million contract, and he has an $11.5 million vesting option that will become guaranteed if he is healthy at end of 2014 and has 600 plate appearances next year, or 1,200 plate appearances in 2013-14 combined. Weeks, 31 next month, batted .209 with 10 home runs in 399 plate appearances this season.
Adam McCalvy is a reporter for MLB.com. Read his blog, Brew Beat, and follow him on Twitter at @AdamMcCalvy. This story was not subject to the approval of Major League Baseball or its clubs.