Brewers players receptive to expanded replay
Brewers players receptive to expanded replay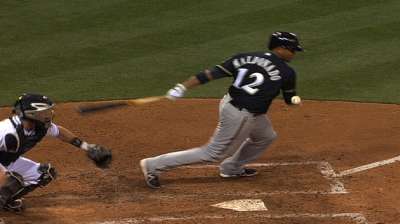 MILWAUKEE -- Brewers general manager Doug Melvin and manager Ron Roenicke each expressed skepticism about the "challenge" system of expanded instant replay proposed Thursday at the quarterly Owners Meetings in Cooperstown, N.Y., but players generally spoke in favor of more replay in baseball.
"I think it's going to be strange, because guys have been used to the human factor for so long," catcher Jonathan Lucroy said. "But I'm a big believer in right versus wrong. I want to play the game the right way, and if they can determine the right call [via replay review] in a big situation, then that's what's right."
Currently, instant replay is limited to boundary calls involving home runs. That system would be greatly expanded under a proposal introduced Thursday by a committee including Braves president John Schuerholz and former managers Joe Torre and Tony La Russa.
The new system, which still faces several levels of approval, including a vote of MLB owners in November, would allow managers one challenge in the first six innings and two more challenges from the seventh through the end of the game. If the manager wins his appeal, he retains the challenge, but the challenge from the first six innings does not carry over. Replays would be reviewed by umpires at MLB.com headquarters in New York.
Precisely which plays will be reviewable, and which will remain non-reviewable, remains to be determined. Schuerholz said 89 percent of calls missed in the past would now be reviewable, but did not provide specifics.
Baseball expects to have the new system in place to start the 2014 season.
"I'm to the point now where I'm fine with instant replay. Let's replay more things," Roenicke said. "Actually, I'm getting tired of going out there and arguing. I am. So I'm in favor of replay.
"But I don't like the 'challenging.' And the reason why is, in the NFL it works because they've got a guy sitting up there on a monitor, he's got a headset. The head coach has a headset. What, am I going to start wearing a headset now? I don't like that. There's too many different things that happen in baseball that I don't want to have that."
Roenicke would prefer that an extra official sit in a press box booth and review close calls, similar to the system in the NFL during the final two minutes of each half.
Melvin said he was one of the few GMs -- "I think we were four GMs out of 30," he said -- who voted in opposition of reviewing home run calls. He used a slippery slope argument.
"I was afraid that if we adopted it, that it wouldn't end," Melvin said. "You'd be wanting to replay something else. That was my fear of doing it the first time, and it's what's happening. I say maybe in the future. But I'm not for doing it just because the umpires had a bad year. Maybe think through it one more year."
He added: "I'm always open to getting things right, but I'm a little concerned about totally taking instincts away from the umpires."
Players were more receptive to the news.
"I know the umpires try to do their best, try to be perfect, but as a human being, you're going to make mistakes," said the Brewers' other catcher, Martin Maldonado. "It makes so much difference when you get a call right."
Maldonado was involved in one of the Brewers' most controversial calls of the year on April 24 in San Diego, when he made the game-ending out for making contact with what he and the Brewers believed should have been ruled a foul ball. Instead of getting at least one more swing with a runner at second base, the Brewers lost, 2-1, and snapped a nine-game winning streak.
"I know that's a tough call for the umpire, who is behind you and behind a catcher standing up," Maldonado said. "But you don't want to end a game like that."
Said Lucroy: "Guys are going to have to get used to it, for sure. Hopefully it doesn't make the games longer than they are, where everybody is waiting 10, 15 minutes for a call to be made. But think about it -- if we had this, that dude [former Tigers pitcher Armando Galarraga] would have a perfect game. Whole playoff scenarios could be altered."
Adam McCalvy is a reporter for MLB.com. Read his blog, Brew Beat, and follow him on Twitter at @AdamMcCalvy. This story was not subject to the approval of Major League Baseball or its clubs.