Gomez exits with knee sprain after great catch
Gomez exits with knee sprain after great catch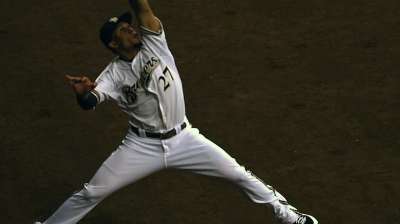 MILWAUKEE -- In a season of devastating losses, the Brewers were holding onto hope late Thursday that they had dodged another. A Friday morning MRI exam of Carlos Gomez's right knee will reveal whether they were right.
Gomez, the sensational center fielder with a chance to become the Brewers' first Gold Glove Award winner since Robin Yount won at shortstop in 1982, left the team's 2-1 loss to the Reds after spraining his right knee making a wall-banging catch in the fourth inning. He was on crutches after the game and in serious pain, but the early word from the club's medical staff offered encouragement.
"I feel really swollen and painful right now, but the doctor took a look and [said] it's not as bad as I feel," Gomez said. "He doesn't think it's something really serious. Right now, everything has started swelling and ... it's really painful right now and we're going to find out tomorrow if there's any damage."
Gomez was hurt when he made a leaping catch for the first out of the fourth inning to rob the Reds' Brandon Phillips of a hit. Gomez's lower back connected with the wall as he went down, and he stayed down for a moment as Brewers head athletic trainer Dan Wright began jogging to the outfield.
After trying briefly to run, Gomez exited the game and headed to the training room. When infielders Mat Gamel and Alex Gonzalez suffered torn ACLs on the same road trip last May, Brewers athletic trainers conducted manual tests and knew almost immediately what they were dealing with. Head physician William Raasch performed the same test on Thursday with more promising results, according to manager Ron Roenicke.
"It's different," Roenicke said. "But you really never know until you have the MRI."
Gomez also hit his right hip on the wall.
"It's still really sore, but it's not something I'm scared or worried about," Gomez said. "I feel like when I hit the wall in the moment, my hip was really painful. But when I started walking around, it started to feel better. When I tried to run, my knee [did] not let me. I have to take the big step tomorrow and get the MRI to see if everything is fine.
"The doctor said he doesn't think we expect something bad. The way he checked my knee, he doesn't expect something really dangerous. But the way I feel, it's different. It feels painful."
The Brewers can ill afford to lose any more players. Five of their nine projected Opening Day starters have spent time on the disabled list this season, including first baseman Corey Hart, who will miss the entire year after undergoing two knee surgeries. Also out for the season are second baseman Rickie Weeks (hamstring surgery) and left fielder Ryan Braun (suspension). Starter Yovani Gallardo (hamstring) is set to return from the DL on Saturday, and third baseman Aramis Ramirez just returned earlier this week from a second stint on the DL for a sprained left knee.
Gomez had been one of the reasonably healthy ones, responding to the three-year, $24 million contract extension he signed in Spring Training by becoming a first-time All-Star and one of the bright spots in an otherwise tough Brewers season.
He is batting .288 with a team-best 18 home runs to go with 55 RBIs and 30 stolen bases, and entered the night as one of the National League's most valuable players. Gomez was worth an NL-best 6.4 wins above replacement per Baseball-Reference.com's measure, and ranked second in Fangraphs.com's measure with a 5.8 WAR.
"He's been one of our guys that's stayed healthy, and it's unfortunate to go down like this," pitcher Kyle Lohse said. "We'll hope for the best."
Adam McCalvy is a reporter for MLB.com. Read his blog, Brew Beat, and follow him on Twitter at @AdamMcCalvy. This story was not subject to the approval of Major League Baseball or its clubs.