Braun reaches out to teammates
Braun reaches out to teammates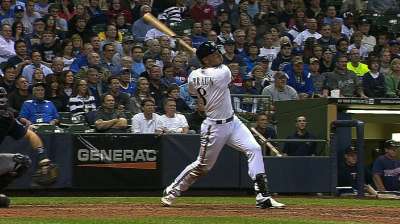 MILWAUKEE -- John Axford's cellphone rang at about 1:30 p.m. CT on Friday as he was driving to Miller Park. Suspended Brewers slugger Ryan Braun wanted to explain himself.
Braun placed similar calls on Friday to a number of uniformed and non-uniformed Brewers personnel, the beginning of an apology tour that multiple clubhouse sources said would go public in the very near future.
Axford was satisfied after what he said was a back-and-forth discussion that lasted 10-15 minutes.
"I think he satisfied quite a bit," Axford said. "I'm sure when he's back next year, he's going to be able to put this behind him. Talking to a couple of guys and being forthcoming, calling us and discussing things with us, I think that's going to be good for him and good for all of us. If he wants to continue to discuss or talk about it, we're definitely here for him and here for that."
Braun called manager Ron Roenicke and a number of the team's established players, including catcher Jonathan Lucroy, who had been one of his staunchest supporters both in the wake of Braun's successful appeal during the 2011-12 offseason, and during the time Braun was connected to the Miami wellness clinic Biogenesis. Some of Braun's calls were to players not currently with the team, making it very likely that longtime teammates Corey Hart and Rickie Weeks were on his list.
After only vaguely admitting "mistakes" during a July 22 clubhouse meeting, hours before Major League Baseball announced Braun had accepted a 65-game suspension for the remainder of the 2013 season, Braun provided more details about his wrongdoings during the Friday phone calls.
"He definitely gave us more insight on things that have gone on," Axford said. "I would expect that to be known [publicly] soon, too."
Axford, who is the Brewers' representative to the Players Association in addition to being a teammate of Braun's since 2009, said it was important for Braun to reach out to key players before going public.
Braun is under contract with the Brewers through at least 2020.
"In here we're close, we're friends, we're family, and you have to have faith and trust and belief in your friends and family," Axford said. "Sure, you can be angry at your family, but if you want to make things better and turn things over, you have to be able to forgive and trust once again. I think that's what we're going to be able to do with Ryan."
Axford made a point of calling Braun a "great teammate" and "great in the clubhouse" during his years with the Brewers.
"It's not like he ever walked through this clubhouse with guys looking down at him or hating every moment that they spent with him," Axford said. "He's a great guy to be around, a great teammate. Guys care about him.
"He knows he has my support. It's unfortunate the way things have gone, but at the same time, you can't just ignore somebody because of things that have happened. You can be upset, you can be angry, but at the same time, you have to be able to move past it at some point and still provide your support and friendship."
Adam McCalvy is a reporter for MLB.com. Read his blog, Brew Beat, and follow him on Twitter at @AdamMcCalvy. This story was not subject to the approval of Major League Baseball or its clubs.