Thornburg adjusting to bullpen role
Thornburg adjusting to bullpen role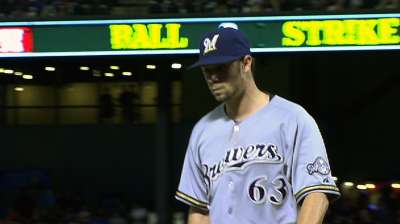 MILWAUKEE -- Brewers right-hander Tyler Thornburg spoke with candor on Monday about his lousy relief outing against the Reds the day before, and about his uncertain role moving forward.
Start with Sunday, when Thornburg walked as many batters (five) as he recorded outs, including a pair of walks with the bases loaded in the fifth inning of what became a 9-1 Brewers loss. It marked a rocky transition back to the bullpen after Thornburg had surrendered only one run in 18 innings over three starts.
"When you're starting, you have a lot of time to get ready, to get your mechanics down, all that time to warm up in the bullpen," he said. "[On Sunday], I was going fast, trying to get my arm ready, and my arm was ready, but I don't think I was ready mechanically or mentally to go out there.
"I try to tell people, relieving and starting are two such different things. They're both pitching, but they're completely different mindsets, different ways of pitching. You try to take it as a learning experience. Obviously, you would have liked to have done better while you're learning. It's one of those things I'm going to have to get used to if I'm relieving."
The 24-year-old entered 2013 as MLB.com's top Brewers prospect, but he was 0-9 with a 5.79 ERA in 15 starts for Triple-A Nashville. He has enjoyed better success in the big leagues while bouncing between the rotation and relief for the second straight season.
The Brewers are trying to determine whether Thornburg fits best as a starter, a swingman or a late-inning reliever. His preference is clear.
"This will be the first time I've said this, but I put a lot of pressure on myself to try to do the best I could starting-wise," Thornburg said. "To be sent to the 'pen, I understood it, especially with Marco [Estrada] being arbitration-eligible and the fact that [Tom Gorzelanny ] is doing so well starting. But at the same time, I was hoping that if we do go to a six-man rotation in September, I was hoping that I was going to be one of those guys they look at. I hope that I still am."
That remains to be seen. The sixth spot could also go to high-ceiling right-hander Johnny Hellweg.
"I put my heart, soul, mind -- everything -- behind [starting], and it was a little bit of a mindset setback [to be sent to the bullpen]," he said. "But the way this game is, I have to move past it."
Does he know where he stands in the organization?
"That's one of the things," Thornburg said. "I want to be a starter. I was hoping they liked me as a starter. I don't know where I stand as far as that. It's one of those things, now I'm just trying to pitch as well as possible and see what comes up."
Adam McCalvy is a reporter for MLB.com. Read his blog, Brew Beat, and follow him on Twitter at @AdamMcCalvy. This story was not subject to the approval of Major League Baseball or its clubs.