Brewers impressed by Gennett, Davis
Brewers impressed by Gennett, Davis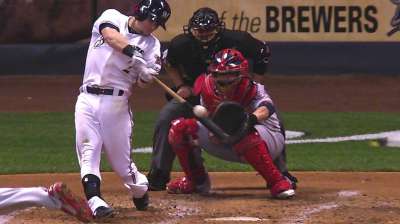 MILWAUKEE -- The Brewers' barrage of personnel changes has created opportunities for a handful of young players, and some are making the most of it.
"They have confidence," center fielder Carlos Gomez said. "I love it."
Gomez and Brewers manager Ron Roenicke have been particularly impressed by Khris Davis, who has grabbed the left field job since Ryan Braun was suspended, and Scooter Gennett, who took over at second base when Rickie Weeks suffered a season-ending hamstring injury. Both Davis and Gennett were in the starting lineup on Wednesday, with Gennett making his first Major League start as a leadoff man.
"They can hit," Gomez said. "As long as they keep it consistent, if they do this, they belong here. They have great discipline at the plate. They look like they make quick changes in their approach to each at-bat. … They look like they have 10 years in the league."
In Wednesday's 8-6 loss to the Cardinals, Davis went 3-for-4 with a run -- the first three-hit game of his career -- and Gennett was 1-for-6.
The Brewers did not plan to promote Davis, Gennett and outfielders Logan Schafer and Caleb Gindl to starting roles this season, but were forced to at times in the wake of a series of injuries and other losses. While it has created daily challenges for Roenicke and his coaches constructing a lineup, the manager sees a silver lining.
"The benefit is making a better evaluation on these guys," Roenicke said. "It's difficult when they're at Triple-A and you're guessing how their game is going to play in the big leagues. Now we get to see how it plays in the big leagues. Davis is showing me something. Scooter is showing me something."
Adam McCalvy is a reporter for MLB.com. Read his blog, Brew Beat, and follow him on Twitter at @AdamMcCalvy. This story was not subject to the approval of Major League Baseball or its clubs.