Aoki inspired by countryman Ichiro's success
Aoki inspired by countryman Ichiro's success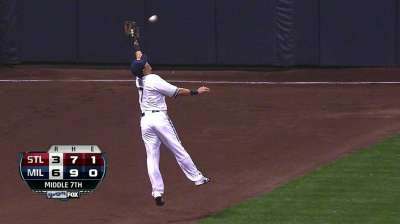 CINCINNATI -- Brewers right fielder Norichika Aoki grew up in Japan watching Ichiro Suzuki's career and dreaming of one day following a similar path. As Ichiro -- now a Yankee -- approached and finally reached 4,000 professional hits on Wednesday, Aoki was watching again.
"I followed it pretty closely, and I was happy he reached it," Aoki said through interpreter Kosuke Inaji. "It's a number that you can't really put into words. It's just something that is incredible."
Ichiro collected his hits between the Major Leagues and Japan's top professional ranks, Nippon Professional Baseball. In nine seasons playing for the Orix Blue Wave, he notched 1,278 hits, before he brought in 2,722 more with the Mariners and Yankees starting in 2001.
Aoki played in the same league in Japan and won three batting titles to go with seven NPB All-Star nods. Although he said it's hard to compare baseball in Japan to the Majors, he said Ichiro's milestone should not be discounted.
"I understand where people are coming from, saying he hit this many in Japan and this many here," Aoki said. "But at the same time, I feel that if Ichiro started his career over here, it's probably a number he could have had a chance to reach over here. Even in Japan, he was just on a different level than everyone else. He was that much better than everyone."
Aoki began playing professionally in Japan in 2004, and he was just 19 years old when Ichiro made the jump to the U.S. Last season was his first playing in the Majors, and Aoki said Ichiro remains an inspiration for players who want to go from Japan to the U.S. to play baseball.
"He's a player that I've looked up to my whole life," Aoki said. "Seeing him play over here, too, that made me want to come play in MLB."
Jeremy Warnemuende is an associate reporter for MLB.com. This story was not subject to the approval of Major League Baseball or its clubs.