Well-traveled reliever Hand rejoins Brewers
Well-traveled reliever Hand rejoins Brewers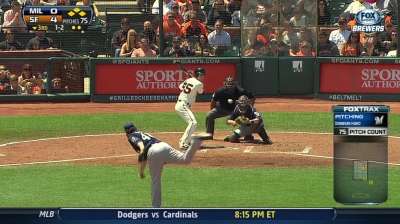 MILWAUKEE -- The Brewers recalled right-handed pitcher Donovan Hand from Triple-A Nashville as the first of the team's September callups, and he threw 1 1/3 scoreless innings of relief in the Brewers' 5-3 loss to the Angels on Sunday.
Hand, who spent nearly three months with the Brewers from late May to mid-August, has shuttled back-and-forth from Nashville several times in the last two weeks.
"It's been different, but it's something you've got to do," Hand said. "That's part of the deal. I'm back, and that's all you can ask for. Like I said at the beginning when I got here, I'll take it one day at a time. Whether it's here or Nashville, whatever. It's still playing the game I love, and I'm back and we'll see what happens the last month."
Hand was sent down to Triple-A on Aug. 16, but was called back up to the Brewers on Aug. 21, when reliever Rob Wooten was placed on the paternity list. Hand pitched that day before being optioned back to Nashville after the game.
He was just happy to be back on Sunday.
"It's always good to be a part of this clubhouse and just the atmosphere here," said the 27-year-old right-hander. "I've proven I can pitch here, and to be back this last month and hopefully go into next year with some good things."
Brewers manager Ron Roenicke talked about the opportunity the team's young players have in the last month of the season.
"It's a great spot for these guys to show what they can do and make an impression on not just myself, but Doug [Melvin] upstairs and his guys trying to figure out things for next year," Roenicke said. "Most of the time, you have guys coming up, and it's always the same thing: 'Well, I didn't really get an opportunity to show them.' Well, you're getting an opportunity."
Entering Sunday, Hand had a 3.75 ERA in 21 appearances for the Brewers, including seven starts. He was yet to notch his first Major League win and was 0-4.
Adam McCalvy is a reporter for MLB.com Read his blog, Brew Beat, and follow him on Twitter at @AdamMcCalvy. Kevin Massoth is an associate reporter for MLB.com This story was not subject to the approval of Major League Baseball or its clubs.