Aoki gains success vs. lefties by differing approach
Aoki gains success vs. lefties by differing approach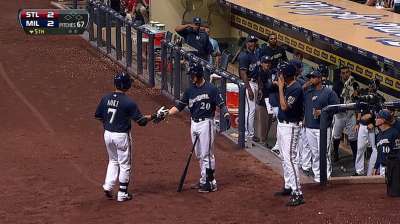 MILWAUKEE -- Wednesday's Pirates-Brewers game offered a fascinating matchup: Major League Baseball's best left-handed pitcher against left-handed batters (Pittsburgh starter Francisco Liriano ) against MLB's best left-handed batter against left-handed pitchers (Milwaukee leadoff man Norichika Aoki ).
For both players, the numbers are impressive. Liriano entered Wednesday holding left-handed batters to a .336 OPS, the best mark in baseball history, as noted by the website Grantland.com (minimum 100 at-bats). Aoki entered Wednesday batting .340 against left-handers, tops among left-handed hitters in the Majors this season, with a .388 on-base percentage against left-handers that trailed only Twins catcher Joe Mauer's .394.
Aoki's success against southpaws is a learned skill.
"I think it was probably my first year playing professional ball," Aoki said through translator Kosuke Inaji. "Since I was a lefty, I figured I have to hit lefties as well to get playing time. So I thought of an approach, and that's where it came from."
Aoki, a three-time batting champion in Japan, declined to share any of his secrets, saying, "I don't want to say. There's different stuff that I think about when I go up to bat against a righty vs. a lefty."
Aoki was the only left-handed batter in the Brewers' starting lineup Wednesday.
He has not enjoyed the same success against right-handed pitchers, batting .263 to lower his overall average entering Wednesday to .287, with a .352 on-base percentage. His numbers are remarkably similar to last season, when Aoki went .288/.355/.433, with 81 runs scored and 30 stolen bases to finish fifth in National League Rookie of the Year Award balloting.
But asked about his season as a whole on Wednesday, Aoki said. "Looking at my numbers, I feel good, but I feel like I can do more."
Aoki's contract includes a $1.5 million club option for 2014 that the Brewers will almost certainly exercise. They have until five days after the World Series to make it official.
"I haven't heard anything," Aoki said, before adding with a smile, "The contract I'm more worried about right now is the contract for my apartment, for getting it next year. That's dependent on whether the club picks me up."
Adam McCalvy is a reporter for MLB.com. Read his blog, Brew Beat, and follow him on Twitter at @AdamMcCalvy. This story was not subject to the approval of Major League Baseball or its clubs.