For Crew starters, success breeds success
For Crew starters, success breeds success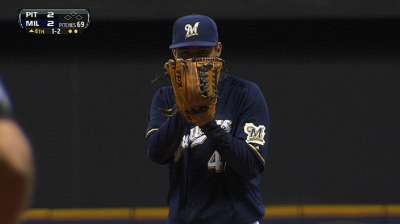 CHICAGO -- Going into Friday's series opener with the Cubs, Brewers starters had an ERA of 3.00 over their previous seven games, which included six quality starts.
Yovani Gallardo said that the key has been locating pitches and trying to continue the quality performances the other starters have been turning in.
"When you see other guys going out there and performing well, you want to follow that up," Gallardo said. "You want to do the same or better. And the other thing, too, is that we've been throwing the ball well. … We've been able to keep the ball down and mix in the offspeed pitches."
Gallardo -- who has given up two earned runs over his past two starts (14 innings) -- added that another key has been being able to make a big pitch to get out of a jam.
"When you fall behind in the count [and] you're able to make that one pitch, whether it be for a double play or a strikeout, [that's] another one of the main reasons for [the recent success]," he said.
Manager Ron Roenicke agrees that getting crucial outs when in trouble has been important.
"A couple of them haven't commanded the ball as well as they usually do, but they made pitches when they've needed to," Roenicke said. "When they got in trouble, they made some pitches to get out of it. … They're figuring things out to where they're not allowing that other team to have those huge innings."
Tyler Thornburg -- who tossed six strong innings against Pittsburgh on Monday, giving up two runs on six hits -- also said that there is some momentum that builds when one starter pitches well and the others have an incentive to follow suit.
"I think it's one of those things [that] when one starter starts out the series well, it just kind of keeps rolling," Thornburg said. "It's just something about the game, that when one guy does well, I don't know if it gives you more confidence or you try to do the same thing. I don't know what it is, but it seems to work like that."
Roenicke said the rotation's recent success bodes well for the club as it finishes the 2013 campaign with an eye toward 2014.
"This is a time when we're making decisions on next year," Roenicke said. "Any time they can go out there and show us something, it certainly adds in their favor [with] what's going on in our minds and how we go forward with it."
Gallardo said that it's encouraging to see the recent quality starting pitching even though the season hasn't gone as planned, and that starting pitching success is important for next year.
"We all know it's been a disappointing season," Gallardo said. "We're not in the situation we were hoping for, but there's a lot of positives, one being with the rotation. We've got some guys that are able to step in and take care of business, which I think is always a good sign going into next year."
Manny Randhawa is an associate reporter for MLB.com. This story was not subject to the approval of Major League Baseball or its clubs.