Estrada not concerned about extended rest
Estrada not concerned about extended rest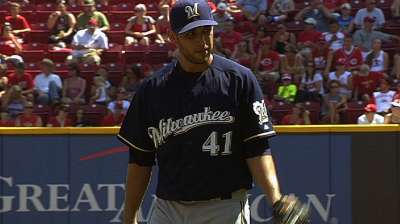 CHICAGO -- When Marco Estrada takes the mound on Wednesday against the Cardinals in St. Louis, he will have had 11 days between starts, last having pitched on Aug. 31 against the Angels.
With an off-day since then and some shuffling of the starting rotation, Estrada has had more than twice the amount of normal rest for a starting pitcher, but the right-hander said he's done his normal routine between starts and is ready to go.
"I took the normal four days in between [starts]," Estrada said. "I've done the same routine and now I've started over [with the same four-day routine]. [Saturday] I took it as a day after you start, and [Sunday] I'm throwing a bullpen.
"So I've basically done the same thing, except I haven't pitched in between. As long as you're not out here just sitting around, not doing your work, you've got nothing to worry about. I've been working hard and keeping everything the same so I think I'll be fine."
Manager Ron Roenicke said Saturday that he also thinks Estrada will be fine following the extended time without a start.
"You're already in great shape [and] you've pitched through the season," Roenicke said. "You should come back [from a longer layoff] feeling refreshed. Your arm should feel good, you throw two or three bullpens in between, and it should work out."
Manny Randhawa is an associate reporter for MLB.com. This story was not subject to the approval of Major League Baseball or its clubs.