Davis sits fourth straight game with wrist soreness
Davis sits fourth straight game with wrist soreness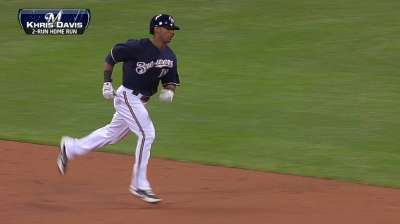 ST. LOUIS -- Lingering soreness in his left wrist limited Brewers outfielder Khris Davis to "dry" swings on Tuesday, a discouraging sign for manager Ron Roenicke.
Davis, batting .298 with nine home runs and 21 RBIs in 33 games since replacing Ryan Braun on the active roster, missed his fourth straight start.
"He's still sore. I was a little disappointed today," Roenicke said. "I want to get him back out there while he's hot, you know? I hate for him to sit out and miss so much that all of a sudden he loses that good feeling now."
Davis offered a more encouraging assessment, saying he hoped to hit in the cage Wednesday. But even if that session goes well, he would probably not return to the lineup until Thursday at the earliest.
Davis called it "a day-by-day thing. It's not there yet. I didn't want to hit and push it, but it felt fine dry swinging."
"To think it's just going to disappear one day, it probably won't happen," Roenicke said.
Adam McCalvy is a reporter for MLB.com. Read his blog, Brew Beat, and follow him on Twitter at @AdamMcCalvy. This story was not subject to the approval of Major League Baseball or its clubs.