Final stretch forces Crew to use six-man rotation
Final stretch forces Crew to use six-man rotation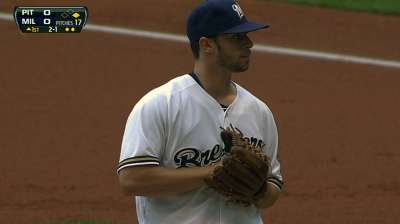 ST. LOUIS -- Tuesday marked the first of 20 games in 20 days to finish the Brewers' season, a grueling stretch in which manager Ron Roenicke will employ at least six starting pitchers.
Wily Peralta, Marco Estrada and Tyler Thornburg were lined up to start the series against the Cardinals, followed by Kyle Lohse, Johnny Hellweg and Yovani Gallardo against the Reds.
"And I think if there's a chance to slip Jimmy Nelson in there, we'll try to," Roenicke said. "We'll just see how things go here, see how he looks out of the bullpen, and see what we want to do.
"Thornburg threw so well for us [in previous starts] that Doug [Melvin, Milwaukee's general manager] would like to get a better look at him. Hellweg, we know what he is -- the [Pacific Coast League] pitcher of the year -- we need to see what he's got. The six days, we didn't feel that was a big deal for the guys who have been pitching all year."
Roenicke said the long stretch without an off-day is not ideal, especially this late in the season. Center fielder Carlos Gomez, third baseman Aramis Ramirez and shortstop Jean Segura, all managing nagging injuries, will need at least one game off apiece.
"The off-days have been weird this season, they've been grouped," Roenicke said. "Is this our third 20-game stretch? They're tough. We just had two off-days -- I would have loved to have the second one a week later."
Twenty games in a row is the maximum allowed under baseball's collective bargaining agreement. The Brewers had one such stretch from late May to early June, another in late June to the All-Star break in July, and now this streak in September.
The 2014 schedule was unveiled Tuesday and the Brewers will have only one 20-game streak, in June.
Adam McCalvy is a reporter for MLB.com. Read his blog, Brew Beat, and follow him on Twitter at @AdamMcCalvy. This story was not subject to the approval of Major League Baseball or its clubs.