De La Torre claimed off waivers, optioned to Minors
De La Torre claimed off waivers, optioned to Minors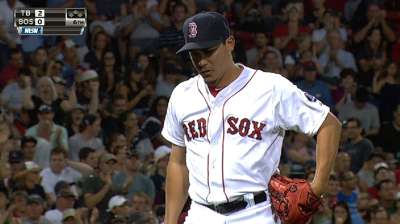 MILWAUKEE -- The Brewers added to their stable of relief options for 2014 and beyond when they claimed right-hander Jose De La Torre off waivers from the Red Sox on Friday.
De La Torre, 28 in October, made his Major League debut with Boston in May and June, pitching to a 6.35 ERA in seven low-leverage appearances, with 15 strikeouts and 10 walks in 11 1/3 innings. He is 12-5 with a 2.58 ERA in 104 appearances at the Triple-A level for the Mets, Indians and Red Sox over parts of the past four years.
"Three pitches [fastball, slider, changeup], at times every pitch above average. Ability to throw multiple innings," Brewers pro scouting director Zack Minasian said. "He's not a very big guy [5-foot-10], but a pretty good competitor. He's had a lot of success in the Minor Leagues, and it's just a matter of getting a chance in the big leagues."
Two Brewers scouts recommended De La Torre: special assistant Dick Groch, who saw De La Torre pitch in the Majors for Boston, and pro scout Tom Mooney, who saw him more recently in the Minors.
"We were fortunate to see him late, and we saw him pretty good," Minasian said. "It was good that they both recommended him separately, and we had our analytics people look at him, and they had good stuff on him, too."
The Red Sox had designated De La Torre for assignment to make room for pitcher Clay Buchholz's return from the 60-day disabled list. To make room on their own full 40-man roster, the Brewers shifted injured second baseman Rickie Weeks to the 60-day DL.
The Brewers were required either to bring De La Torre to the big leagues or option him to the Minor Leagues, so he was optioned to rookie level Helena, Milwaukee's only active affiliate. But he will not report to that team, which begins the Pioneer League Championship Series against Idaho Falls on Saturday night.
De La Torre will have two Minor League options remaining when he reports to Brewers big league camp in the spring. It is his second stint with Milwaukee; the organization originally signed him as a free agent out of Puerto Rico in January 2004, but released him that April.
Adam McCalvy is a reporter for MLB.com. Read his blog, Brew Beat, and follow him on Twitter at @AdamMcCalvy. This story was not subject to the approval of Major League Baseball or its clubs.